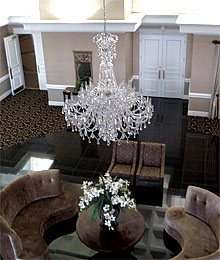 "The venue speaks for itself," says Mario DeCicco "It's absolutely stunning!"
Over 3,000 sq.ft. has been transformed into a sleek, magnificent room. The space boasts a separate entrance, custom interactive bar, a magnificent circular banquet focal point and a new Bridal Suite – all adorned with silver-threaded, woven drapery. Paired with The Royalton's trademark high ceilings, massive doors, great chandeliers and gleaming wood floors, this multi-functional space allows guests to have further choices when booking their celebrations.
Whether you envision a happening corporate launch venue or a contemporary milestone celebration, a posh cocktail party or a fabulous pre-function room, this spectacular Read more
With the wedding season upon us, there are many aspects to consider when planning your special day.
Once you have decided on a date, the next step is booking your wedding reception's setting. The professional event specialists at The Royalton Hospitality Inc. are able to realize every detail of your dream day. The Royalton team prides itself on excellence in service, unique menu combinations, exceptional architecture, and flexible event layouts. Begin with your initial consultation with either Mario DeCicco or Helmut Rast, the event specialists extraordinaire at The Royalton. Says Mario: "We consult with our international team of culinary experts, and decide how to wow our guests with an unforgettable celebration – just leave each detail in the hands of our knowledgeable and experienced staff at the Royalton." Read more