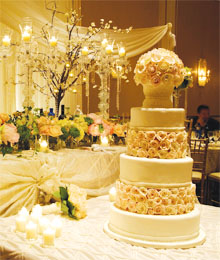 Not many banquet halls are quite like The Venetian, where you can look around and admire huge mosaics and glance up at a ceiling decorated with inspiring paintings and mouldings. The lobbies feature double tiers of gold, off-white and beige. The light reflects on the colours, juxtaposed with those of the mosaics and paintings to create an architectural masterpiece – a hall that not only displays art but is, in itself, a work of art.
The Venetian accommodates a variety of events, cultures and needs. It hosts everything from bachelor parties and showers to sacraments and weddings, including bar and bat mitzvahs and can cater to a wide variety of cuisines including Kosher, European, Chinese and Middle Eastern. Clients can also opt for a more traditional menu. "We pride ourselves on the diverse selection of food and services offered," says owner Joseph Mete. Read more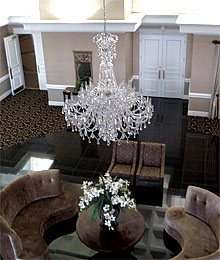 "The venue speaks for itself," says Mario DeCicco "It's absolutely stunning!"
Over 3,000 sq.ft. has been transformed into a sleek, magnificent room. The space boasts a separate entrance, custom interactive bar, a magnificent circular banquet focal point and a new Bridal Suite – all adorned with silver-threaded, woven drapery. Paired with The Royalton's trademark high ceilings, massive doors, great chandeliers and gleaming wood floors, this multi-functional space allows guests to have further choices when booking their celebrations.
Whether you envision a happening corporate launch venue or a contemporary milestone celebration, a posh cocktail party or a fabulous pre-function room, this spectacular Read more