Specializing in innovative artistic pieces with superior craftsmanship, Roma Moulding is the only company to manufacture mouldings from Italy. The company celebrated its 25th Anniversary on August 11th with a sophisticated event that entertained guests with classical music, along with art on a range of platforms, such as paintings, photography, books and sculptures. Two acclaimed photographers were present, in addition to a design seminar feature by the company's creative director, Maria Hoo. The event was complete with a martini bar and tasting of gourmet Italian wines. Read more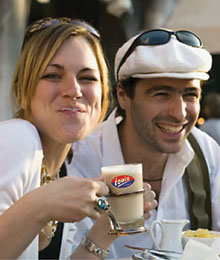 Do you recall when you enjoyed your first sip of coffee? Chances are your intense love affair with caffeine is still going strong, as you yearn for its rich aroma each morning. "It must be of a sweet taste – not bitter – and it must have a few centimetres of froth or schiuma, as we call it. And when you pour the sugar into the coffee, it should be allowed to sit for a few seconds. It is an art. No doubt about it," says Ross Cammalleri, owner and general manager of Alfa Cappuccino. This, his sharp, impassioned and tempting description of the ideal espresso, sends the java-obsessed on frenzied coffee runs.
Alfa Cappuccino is an importing mecca: an impressive 20,000 sq. ft. of espresso machines, coffee makers, whole coffee beans, coffee grinders and restaurant equipment and accessories. Ross, along with his brother Sam, began Alfa Cappuccino in 1986. "This coming October it will be 23 years," explains Ross. Read more
A definitive leader in fine Italian dining for over a decade, Tremonti Ristorante has pleased the palates of Vaughan residents since 1986. This long-term success is without a doubt a testament to its gastronomic flair and steadfast commitment to culinary achievements.
Named after three famous mountains in the Abruzzo region of Italy, Tremonti is known for its fresh seafood and fine-cut meats. With such unique dishes as the renowned pappardelle and wild bore, Tremonti's menu is anything but boring. "A lot of people come here for our homemade gnocchi in a pheasant ragu," says owner Claudio Librando. "And of course, our wine list is designed to quench any demand." Read more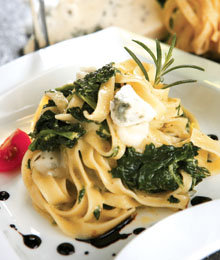 Finding a delicious meal in a friendly urban atmosphere has just become easier. If you're up for an experience that transcends the average date with your local trattoria, it's worth taking a trip uptown. This summer, the opening of Di Manno Ristorante will offer a savoury piece of Italy and a touch of Mediterranean fusion to patrons throughout the city. The upscale eatery is set to unleash some of the freshest and finest gourmet cuisine, combined with an unbeatably warm encounter.
Specializing in preparing heavenly meals is not something the establishment takes lightly. "It's more than just food; it's something social and comforting," says co-founder Nancy Di Manno. "Dining is a great way to unwind with a good glass of wine Read more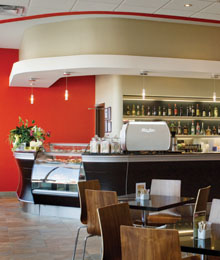 More than just a routine, enjoying a break is a way of life in Italy. The idea of sipping coffee and savouring a meal is a cherished tradition that has now found its way to the city. Opening this past spring at Jane and Rutherford's bustling intersection, Zona Caffè is a unique hot spot, offering more than your average hot table and bar. "We wanted to create a place where friendships are made as you come to unwind," says owner and founder Lina DeRocchis. "It has a very modern design and European feel – all of our equipment is imported from Italy." Walking into Zona Caffè, patrons instantly notice the cool, soothing décor, infused with aromas of authentic Italian food. Read more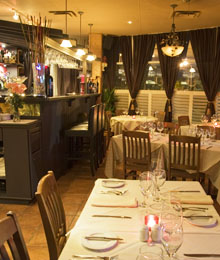 Stepping through a doorway to visit a piece of Italy is not usually the case, but the experience is more than possible at Il Cavallino Ristorante. A place where visitors truly discover cultured cuisine; the establishment has been nourished for over 19 years with a long line of European experience. "I had a place in Toronto for 12 years, after working in Switzerland, Germany, and France, says owner Franco Poletti. "I always worked in the hospitality and hotel industry." Growing up in the restaurant business, Poletti has been surrounded by food his entire life, which is the reason why he knows how to please the palate. Read more
Tantalizing his viewers' palates with mouth-watering dishes made with authentic Italian ingredients, David Rocco and his newly extended family escape to the Tuscan countryside for the next season of David Rocco's Dolce Vita.
If David Rocco were a dish, he'd be pasta al forno, because, he tells me, he's crunchy on the outside, and soft on the inside. It's a good comparison, since oven-baked pasta is covered in a crust of gold, which symbolizes the level of success he has received over the years.
Dressed casually in designer jeans, a graphic tee, and military-green jacket, the host/producer of the Food Network's David Rocco's Dolce Vita oozes a boyish charm and electric energy. Read more