Wake Up and Smell Alfa Cappuccino!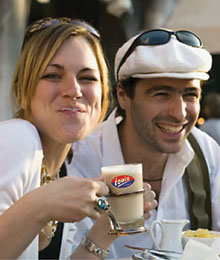 Do you recall when you enjoyed your first sip of coffee? Chances are your intense love affair with caffeine is still going strong, as you yearn for its rich aroma each morning. "It must be of a sweet taste – not bitter – and it must have a few centimetres of froth or schiuma, as we call it. And when you pour the sugar into the coffee, it should be allowed to sit for a few seconds. It is an art. No doubt about it," says Ross Cammalleri, owner and general manager of Alfa Cappuccino. This, his sharp, impassioned and tempting description of the ideal espresso, sends the java-obsessed on frenzied coffee runs.
Alfa Cappuccino is an importing mecca: an impressive 20,000 sq. ft. of espresso machines, coffee makers, whole coffee beans, coffee grinders and restaurant equipment and accessories. Ross, along with his brother Sam, began Alfa Cappuccino in 1986. "This coming October it will be 23 years," explains Ross. "We decided to start a company and went to Milan. We picked up a few lines, espresso machines and food equipment." They now offer the world's highest quality coffee, including Ionia … il Caffè, a brand they proudly are the largest distributors of. Alfa Cappuccino's expertise and wide selection of brands, including La Spaziale, Gaggia, Brasilia, Lavazza, De'Longhi and Rancilio make it a place where coffee lovers unite. They provide their products to an endless array of establishments in the city, including Emily's Bakery, St. Phillips Bakery, Nino D'Aversa Bakery, Basilico, Mistura, Sassafraz, Sotto Sotto and Zafferano restaurants. "We've built relationships and friendships with people in the hospitality industry that are forged forever," says Cammalleri. As a Vaughan resident, Cammalleri works where he plays. "There's everything in Vaughan. If you want to go out on a Saturday night, you don't need to go downtown. It's an honour and a pleasure to live in such a wonderful community."
As a growing and innovative business, Alfa Cappuccino will be introducing a new line of virgin olive oil that hails from Santiago, Chile. "It truly is the champagne of olive oils," says Cammalleri. Hausbrandt, the leading espresso of Italy's hospitality industry, is also being added to Alfa Cappuccino's impressive roster of fine coffees.
Coffee-crazed Cammalleri, who admits to consuming six espressos a day, also offers up expert advice to caffeine aficionados: "On an espresso machine, my first tip is to always let the water run first because the machine builds up pressure. Let that first five or 10 seconds of water come out; it releases the pressure and doesn't scald the coffee."
www.espresso.com, 1.800.764.2532