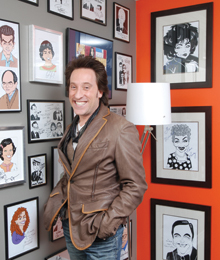 It's 3 p.m. on a Tuesday afternoon and Marshall Jay Kaplan is in the middle of reviewing an episode of My House Your Money for the W Network, one of five shows he's produced in recent years, which  includes TLC's Brides of Beverly Hills and TVTropolis' Instant Cash. A few hours earlier he received a phone call from a Canadian Forces corporal who wanted to inform him that the base loves his reality show Totally Tracked Down, where Kaplan himself heads to Hollywood and hunts down celebrities from the '80s and '90s like Cloris Leachman and Doris Roberts. If we can learn anything from this Vaughan, Ont. resident, it's that we're all capable of drawing our own destinies.
Most people would go on to become a doctor after getting a double degree in microbiology and biochemistry, but as you'll soon discover, Read more
A definitive leader in fine Italian dining for over a decade, Tremonti Ristorante has pleased the palates of Vaughan residents since 1986. This long-term success is without a doubt a testament to its gastronomic flair and steadfast commitment to culinary achievements.
Named after three famous mountains in the Abruzzo region of Italy, Tremonti is known for its fresh seafood and fine-cut meats. With such unique dishes as the renowned pappardelle and wild bore, Tremonti's menu is anything but boring. "A lot of people come here for our homemade gnocchi in a pheasant ragu," says owner Claudio Librando. "And of course, our wine list is designed to quench any demand." Read more