Glamour has our society swimming in a sparkling sea of delusion and vanity has a whole new face that can't move its forehead. With this in mind it is no wonder HBO's hit show Entourage has become so popular. It reflects powerful distractions that throw human beings off their personal course to achieve their full potential, including the procrastinator's drug of choice that's being smoked in 50 per cent of their episodes – marijuana. The creators of Entourage continue to master in the art of manipulating and exploiting human weakness.
The team at Entourage has chosen not to shy away from the proverbial fast lane and the toxic consequences that their actors never take seriously. Also interesting is the real-world application of flirtation with this "road of spoils" or "fast-lane" lifestyle. This often tempts its patrons with an exciting taste for the senses that leads to a desire to continually live life in a way that ignores the inner Read more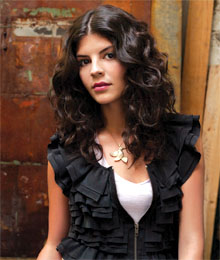 Nikki Yanofsky is unlike other singing sensations her age. At 16, her interest in jazz music and love for performing tracks by timeless music legends like Ella Fitzgerald are a far cry from the pop-saturated culture of 21st century music.
Chosen as the voice for "I Believe" – the anthem for the Canadian broadcast of the 2010 Winter Olympic Games – and gracing a worldwide audience of 3.2 billion viewers during her opening performance of "O Canada" at the Games, Yanofsky recalls it as, "one of the most nerve-racking and amazing experiences" she's had to date.
"Afterwards, I went back to my dressing room and I'm like, 'OK, mom, dad – you go into the Green Room, I'll meet you in a second,' and I called my best friend and just started crying hysterically Read more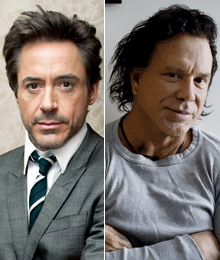 There are no accidents; everything happens for a reason. Those who choose not to learn from their mistakes are doomed. As they say, there is no worse fool than an old fool. For life is a learning experience and mistakes are one of the courses available in the curriculum of life. The more lessons we learn from the mistakes we make, the wiser we will be. What we must keep in mind is our dreams, however ridiculous they sound. Everyone is good at something and belief can be the strongest driving force that can make any of our dreams possible. Fame comes and goes, stars rise and fall, but dreams live forever. Two of the greatest examples available for us to draw from are Robert Downey Jr. and Mickey Rourke. If mistakes plus lessons learnt equals wisdom, then these two must be the wisest men in Hollywood. Read more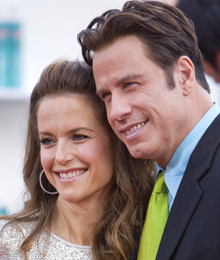 "The secret to a good and successful marriage is to not look for secret formulas," laughed John Travolta when I spoke to him in Los Angeles way back in 1995. It was the morning after his Golden Globe win for Best Actor (Get Shorty) and just four years after his marriage to actress Kelly Preston. "It really just comes down to being yourself, being honest and remembering that you have to give as much as you take."
Travolta met Preston when he was a Hollywood star on his way down and she was a young actress on the way up. Both were in relationships when they met and worked together for the first time on a film called The Experts in 1987. They had a lot in common – they were both Scientologists – but Preston was married to actor Kevin Gage at the time. After divorcing Gage in 1987, Preston began a relationship with actor Charlie Sheen. Sheen proposed Read more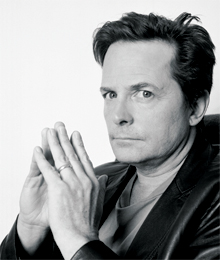 His brain and pill playing nice at alchemy, Michael J. Fox rose from the ground and onto the platform at the closing 2010 Winter Olympic Games, smoothly delivering a tongue-in-cheek monologue on Canada's back bacon and 'I'm sorry' stereotypes. Comedic pokes at Canadiana aside, his flawless flow of words was what engaged the audience and viewers around the world. His unwavering gait and quick smile called for the crowd to rise to its feet to celebrate the victory and fortitude of the human spirit, garnering the loudest standing ovation on that mild Vancouver night.
He inhales conviction and exhales hope and because of that, we believe.
Michael J. Fox, 49, has Parkinson's disease, a disease that tears at the brain, our throne of intelligence. The condition Read more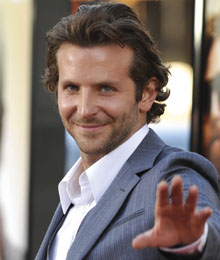 Thanks to recent box office hits like Yes Man, He's Just Not That Into You and The Hangover, Pennsylvania native Bradley Cooper has been upping his way towards the Hollywood A-list.  His magnetic swagger, chiselled good looks and of course, his acting talent, is allowing the American to abandon his status as a supporting actor to bask in the limelight of a leading man.
Bradley Cooper was born on Jan. 5, 1975, in Philadelphia, Pennsylvania, to an Italian-American mother and an Irish-American father. In 1997, having just completed an honours degree in English at Georgetown University, 22-year-old Cooper packed his bags and headed for the city so nice they named it twice.
Upon his arrival in the Big Apple, Cooper, who was stung with the acting bug, enrolled himself at the Actors Studio Drama Read more
Like most aspiring Hollywooders, a young Megan Fox immersed herself in the world of dancing and competitive modelling try outs at five-years of age, winning a bevy of awards by age 13 from the American Modeling and Talent Convention at Hilton Head, South Carolina. Hoping that her luck would continue, she headed to Los Angeles. With baby blues and ravenous dark hair, she successful strutted from the catwalk to the silver screen, with her first appearance opposite Mary-Kate and Ashley Olsen in 2001's Holiday in the Sun. "I found the Olsens fascinating in that they were living proof that age, that being young, really doesn't mean you can't be in charge of your own career and take it in the direction that you want to take it," says Fox. In 2004, Fox appeared alongside Lindsay Lohan, another rising star but from another end of the behavioural spectrum, in Confessions of a Teenaged Drama Queen. Read more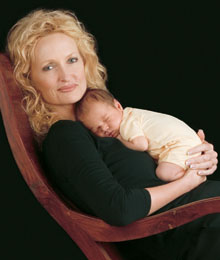 Recognized as the world's most famous baby photographer, Anne Geddes doesn't just capture the first moments of a baby's life, but reveals that we should treat our fragile environment with love and protection – just as we do our little ones.
April showers bring Mayflowers, which bloom from the Earth's dark breast as the sun's embrace heals the clinch of winter's cold. And while the quiet fire of spring unleashes quaint gardens and the birds' chorus serenades a blushing sunrise, at times the seasons may hesitate their course. "The Chilean poet Pablo Neruda once said: 'They can cut all the flowers, but they can't stop the spring,'" recalls celebrated artist Anne Geddes. As the world's most prolific baby photographer, she sets to work in a surprisingly quiet photography studio, set in Sydney, Australia. Yet as her precious models drift to sleep against fluffs of supple cotton, Read more
Thandiwe Adjewa "Thandie" Newton (born Nov. 6, 1972), is a BAFTA and SAG Award-winning English actress. She has appeared in a number of successful British and American films, including The Pursuit of Happyness; Run, Fat Boy; Mission: Impossible II and Crash.
Early life
Newton is the daughter of Nyasha, a Zimbabwean health-care worker, and Nick Newton, an English laboratory technician and artist. Her birthplace has been incorrectly reported Read more
Tantalizing his viewers' palates with mouth-watering dishes made with authentic Italian ingredients, David Rocco and his newly extended family escape to the Tuscan countryside for the next season of David Rocco's Dolce Vita.
If David Rocco were a dish, he'd be pasta al forno, because, he tells me, he's crunchy on the outside, and soft on the inside. It's a good comparison, since oven-baked pasta is covered in a crust of gold, which symbolizes the level of success he has received over the years.
Dressed casually in designer jeans, a graphic tee, and military-green jacket, the host/producer of the Food Network's David Rocco's Dolce Vita oozes a boyish charm and electric energy. Read more