Anne Geddes: A Living Inspiration for a Better Tomorrow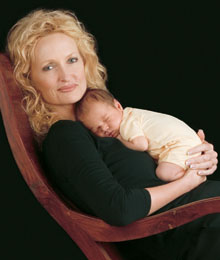 Recognized as the world's most famous baby photographer, Anne Geddes doesn't just capture the first moments of a baby's life, but reveals that we should treat our fragile environment with love and protection – just as we do our little ones.
April showers bring Mayflowers, which bloom from the Earth's dark breast as the sun's embrace heals the clinch of winter's cold. And while the quiet fire of spring unleashes quaint gardens and the birds' chorus serenades a blushing sunrise, at times the seasons may hesitate their course. "The Chilean poet Pablo Neruda once said: 'They can cut all the flowers, but they can't stop the spring,'" recalls celebrated artist Anne Geddes. As the world's most prolific baby photographer, she sets to work in a surprisingly quiet photography studio, set in Sydney, Australia. Yet as her precious models drift to sleep against fluffs of supple cotton, the world undergoes environmental catastrophes, induced by natural progression or climate change.
We all remember when Hurricane Katrina crashed onto the vulnerable shores of Southeastern Louisiana, and we all can recall the chaos that unfolded with the accidental release of radioactivity into the atmosphere, known as the Chernobyl Disaster in 1986. Thousands still suffer from the loss of life and property in New Orleans, while the widespread effects brought on by Chernobyl's Nuclear Power Plant explosion had thousands of Ukrainians dying from cancer. To this day, contentions of animal life still suffering in the inflicted area continue to abound.
Bringing inspiration for a better tomorrow, Geddes captures the deep connection between the purity of new life and the vital role we play in preserving our vulnerable environment, through endearing photographs of babies dressed as fairies, bunnies, bees and flowers. "The loveliness and beauty of flowers are connected to newborns because they are soft and supple and curl themselves into such lovely round shapes, which are the natural shapes of flowers," says the Australian-born Geddes.
Known for her talent in displaying newborns swathed in soft petals and warm blankets, a closer look reveals how Geddes speaks her mind through her work.
"The world needs us to be concerned; we need, as in life, to give back. We cannot keep taking without regard for not only our present, but also for our children's future," says Geddes, with her recent autobiography A Labor of Love (2008) illuminating the magic and passions of her life.
A mother to daughters Stephanie and Kelly, Geddes knows first-hand the importance of guarding our innocent youth. "Being a mother has given me a deeper and richer appreciation of humanity, to know that someone else is totally dependant on me for love, care and a foundation for their lives," says Geddes, who has been photographing newborns, toddlers and pregnant mothers since she was 25. "I photograph babies to portray and promote the absolute promise of a newborn; the powerful potential of any child to be an extraordinary human being. They should, each and every one of them, be protected, nurtured, loved, and encouraged."
Throughout the years, Geddes has made it her goal to safeguard little people. Spreading the message that babies deserve our full protection, Geddes also includes that notion in the way we dress and pamper our children. Epicuren Baby in association with Anne Geddes provides luxurious, certified-organic baby skin care products manufactured under solar power with phthalate-free packaging, while the upcoming Pure Collection from Geddes' baby clothing line features natural, gentle fabrics fit for babies and the environment.
A living inspiration, Geddes reveals her strength not just behind a camera's lense but through her dedication to charities. In 1992, she and her husband, Kel, founded the Geddes Philanthropic Trust, to assist in the prevention of child abuse. Using designated funds from a range of Anne Geddes products, the foundation extended a helping hand during the disastrous Boxing Day Tsunami; donating thousands of dollars to the UNICEF South Asia Tsunami Relief Effort, and more than 20,000 breathable pieces from Anne Geddes' baby clothing compilation to the relocated young affected in New Orleans. "I have always felt that it is important to give back and help others who may be less fortunate," explains Geddes.
As a child, she recalls standing in her family's front garden, telling her mother that there was something she needed to do but didn't know what it was. Today, Geddes knows what her life mission is. In A Labor of Love she writes: " … If I could truly convey the exquisite, yet vulnerable, beauty of each baby, perhaps I could also help strengthen awareness of the need to protect them."