Lisa Ray is in her own world right now. The acclaimed Canadian actress appears faraway from the photographer, videographer and stylists that have formed a tight circle around her. Even the intense stare of studio lights can't assuage her green gaze as she ironically sways to the orchestral sound of Arcade Fire's Empty Room. Wearing Christian Louboutin shoes on her feet, a white silk-chiffon Réva Mivasagar dress on her body and the lyrics When I'm by myself, I can be myself on her face, Ray's angelic feathers are as unruffled as it gets.
With a self-assurance and practiced poise that's poetically performed, you would never guess that the spirited 39-year-old considers herself an introvert. "I need time alone. I'm quite shy at my core and at my being and I don't really invite attention," says Ray. That's not the case, however, when the red light Read more
Dane Cook is staring at cover art for his Greatest Hits album. He's narrowed the title choices down from 15 to three and his deadline is today. The creative process has caused the sandy haired star comedian to take a scenic route down Memory Lane – long before his Forbes list fortune and arena-filling fame. He's spent the last few weeks listening to grassroots routines and discovering edits of CDs that he didn't even know existed. "It's interesting – watching and listening to the evolution of myself. It's very, very strange." He pauses. In that brief silence you can hear the deafening authenticity behind Cook's quiet confidence.
Ankle-deep in conversation, it becomes refreshingly apparent that one of Time magazine's 100 Most Influential People hasn't let sold-out stadiums and Hollywood movie roles alongside Kevin Costner, Kate Hudson and Steve Carell Read more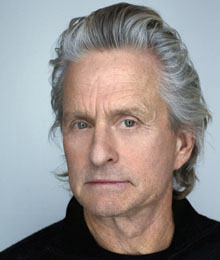 Shallow spectators may see Michael Douglas's Hollywood life as a bed of roses but only he knows the pain of its thorns. In the midst of his success, Douglas, 65, is currently enduring the later stages of an eight-week course of radiation treatment to cure his aggressive stage IV throat cancer. While he fights the pain of the chemotherapy, his career continues with his box-office hit Wall Street: Money Never Sleeps.
As Douglas courageously climbed the ladder of success in Hollywood, every so often he might have looked over his shoulder to see that underneath him were people – family members, perhaps – who looked up at him with their hands outstretched, needing him in their lives. Unfortunately for them, ambition has no peripheral vision. As his career soared, his personal life has suffered. Read more
Glamour has our society swimming in a sparkling sea of delusion and vanity has a whole new face that can't move its forehead. With this in mind it is no wonder HBO's hit show Entourage has become so popular. It reflects powerful distractions that throw human beings off their personal course to achieve their full potential, including the procrastinator's drug of choice that's being smoked in 50 per cent of their episodes – marijuana. The creators of Entourage continue to master in the art of manipulating and exploiting human weakness.
The team at Entourage has chosen not to shy away from the proverbial fast lane and the toxic consequences that their actors never take seriously. Also interesting is the real-world application of flirtation with this "road of spoils" or "fast-lane" lifestyle. This often tempts its patrons with an exciting taste for the senses that leads to a desire to continually live life in a way that ignores the inner Read more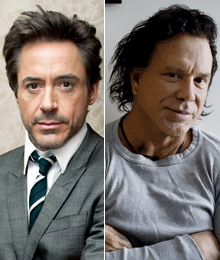 There are no accidents; everything happens for a reason. Those who choose not to learn from their mistakes are doomed. As they say, there is no worse fool than an old fool. For life is a learning experience and mistakes are one of the courses available in the curriculum of life. The more lessons we learn from the mistakes we make, the wiser we will be. What we must keep in mind is our dreams, however ridiculous they sound. Everyone is good at something and belief can be the strongest driving force that can make any of our dreams possible. Fame comes and goes, stars rise and fall, but dreams live forever. Two of the greatest examples available for us to draw from are Robert Downey Jr. and Mickey Rourke. If mistakes plus lessons learnt equals wisdom, then these two must be the wisest men in Hollywood. Read more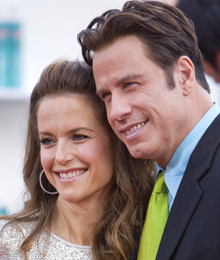 "The secret to a good and successful marriage is to not look for secret formulas," laughed John Travolta when I spoke to him in Los Angeles way back in 1995. It was the morning after his Golden Globe win for Best Actor (Get Shorty) and just four years after his marriage to actress Kelly Preston. "It really just comes down to being yourself, being honest and remembering that you have to give as much as you take."
Travolta met Preston when he was a Hollywood star on his way down and she was a young actress on the way up. Both were in relationships when they met and worked together for the first time on a film called The Experts in 1987. They had a lot in common – they were both Scientologists – but Preston was married to actor Kevin Gage at the time. After divorcing Gage in 1987, Preston began a relationship with actor Charlie Sheen. Sheen proposed Read more
1. Get Him to the Greek | June 4th, 2010, Director: Nicholas Stoller
The director of the hilarious Forgetting Sarah Marshall joins forces again with Russell Brand and Jonah Hill for another highly anticipated comedic sensation. When an established record company executive (Sean Combs) gives 24-year-old newbie Aaron Green (Hill) 72 hours to escort unruly British rock icon Aldous Snow (Brand) to Hollywood for a career contingent comeback concert, he embarks on a wild ride. The success or failure of Snow and Green now rests in each other's hands. Green's duty to get the rampant rocker to the historic Greek Theatre in time becomes a taxing task. Watch their thrilling three-day journey unfold in theatres this spring. Read more
Drawing attention to the best in glamour, luxury, and quality on May 7th, 2009, this cocktail event showcased art and photography from Funktion Gallery at Toronto's trendy Foundation room. Guests wore an abundance of pearls, lace and jewels to reflect old Hollywood glamour. This stylish frolic had Toronto's fashion elite chattering with classic martinis in hand! www.heydoyou.com
LEFT TO RIGHT: Guests Bhiravi Ravichandran and Hanna Stecewicz pose for the camera as they exude the glamour and luxury.