The Hollywood Buzz on Bradley Cooper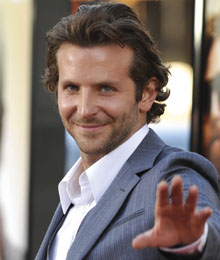 Thanks to recent box office hits like Yes Man, He's Just Not That Into You and The Hangover, Pennsylvania native Bradley Cooper has been upping his way towards the Hollywood A-list.  His magnetic swagger, chiselled good looks and of course, his acting talent, is allowing the American to abandon his status as a supporting actor to bask in the limelight of a leading man.
Bradley Cooper was born on Jan. 5, 1975, in Philadelphia, Pennsylvania, to an Italian-American mother and an Irish-American father. In 1997, having just completed an honours degree in English at Georgetown University, 22-year-old Cooper packed his bags and headed for the city so nice they named it twice.
Upon his arrival in the Big Apple, Cooper, who was stung with the acting bug, enrolled himself at the Actors Studio Drama School at The New School University in Greenwich Village, where he would obtain his master of fine arts degree. With an impressive amount of Ivy League credentials to his name, the studious star admitted to People magazine that he is not a natural-born academic. "I loved the college experience of studying. I was very grateful to be there … I applied out of high school and I didn't get in and then I applied as a transfer and got in. I felt honoured to be there, so I worked my ass off. The whole time I thought I wasn't smart enough, so I felt like I had to."
His career as an actor was sluggish at first, landing only minor cameo roles in television series such as Sex and the City. His slow path took a much-needed boost in 2005, when he was cast as the very uncharismatic Zachary "Sack" Lodge in Wedding Crashers. His permanence as a selfless bad boy would continue with other box-office hits such as He's Just Not That Into You. But, his 2006 stage performance on Broadway with Julia Roberts in Three Days of Rain proved his versatility as a performer.
This year, Cooper crossed the line between just another supporting actor to one of Hollywood's most
sought-after comedy stars. In The Hangover, Cooper plays Phil, a fun-loving, carefree schoolteacher who embarks on a journey that includes a tiger, a disgruntled Mike Tyson and an Asian crime boss.
Lately, everyone has been noticing the statuesque, blue-eyed actor – everyone from legions of fans, movie producers and Hollywood starlets. In 2006, Cooper married former Spin City star Jennifer Esposito. The marriage lasted only four months. Since the ink on his divorce papers have dried, Cooper has become quite the Hollywood bachelor, rumoured to have dated Cameron Diaz and Jennifer Aniston.  He says he enjoys the company of down-to-earth and authentic women.
Cooper is a true Renaissance man, a master of many trades – something that is rare in a Hollywood star nowadays. Apart from being educated, talented, and handsome, the sandy-brown haired actor is also a self-declared chef. As a youngster, he would help his grandmother make homemade pasta: cavatelli and ravioli.  He acts, he romances, and he even cooks! He is also fluent in French. When he was a child, he watched the 1981 classic Chariots of Fire, based on the 1924 Summer Olympics in Paris. In a scene, one of the characters is speaking French, the official language of the Olympics. Cooper was enthralled by the beauty of the language and was motivated to learn it.
Currently, Cooper is starring in three upcoming films, which are to be released this year. He will play Douglas J. Ames in Case 39 alongside Renee Zellweger. Also coming out in the fall is the Phil Traill-directed movie All About Steve, where Cooper stars as the title character, opposite Sandra Bullock.
The most anticipated Cooper film will be New York, I Love You, an anthology film amalgamating several love stories set in one of the most romantic cities in the world. The star-studded lineup includes Natalie Portman, Shia LaBeouf, Orlando Bloom, and Drea de Matteo.
For not too long, Cooper has more than made up for his slow beginnings as an actor. Men want to go to Vegas with him, women want to date him, grandmothers … well, they probably want to share cooking tips with him. Love him or hate him, we'll be seeing a whole lot of Bradley Cooper on the silver screen.