John Travolta and Kelly Preston: Highs and Lows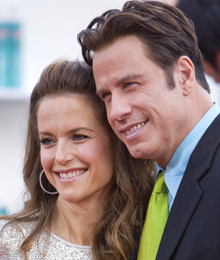 "The secret to a good and successful marriage is to not look for secret formulas," laughed John Travolta when I spoke to him in Los Angeles way back in 1995. It was the morning after his Golden Globe win for Best Actor (Get Shorty) and just four years after his marriage to actress Kelly Preston. "It really just comes down to being yourself, being honest and remembering that you have to give as much as you take."
Travolta met Preston when he was a Hollywood star on his way down and she was a young actress on the way up. Both were in relationships when they met and worked together for the first time on a film called The Experts in 1987. They had a lot in common – they were both Scientologists – but Preston was married to actor Kevin Gage at the time. After divorcing Gage in 1987, Preston began a relationship with actor Charlie Sheen. Sheen proposed to Preston in 1989 but a year later Preston ended the relationship after Sheen accidentally shot her in the arm after an argument. It was then that Travolta and Preston began seeing each other and just over a year later, on Sept. 5, 1991, they were married in Paris (although they would need to be married a second time a week later in Florida because the original marriage was a Scientology ceremony, which is not recognized as legal in the United States).
The couple's first child, Jett, was born a year later; their daughter, Ella Bleu, was born in 2000. While Travolta and Preston continued to work, Preston chose to scale back the volume of her acting roles so she could be a full-time mother to Jett and Ella Bleu. "Even during those early years of our marriage and family life, when my career was supposedly at a standstill, I was still working all the time; the movies I was making then just weren't as high profile as the ones I was making 10 years earlier," she said. But things would shortly take a huge leap forward for Travolta when he took the role of Vincent Vega in the movie that became a cultural phenomenon – Pulp Fiction. This was followed by Get Shorty and the Golden Globe win, and then an unabated series of starring roles in high-profile films that earned Travolta enormous wealth, which allowed him and his family to have homes in Florida, Los Angeles and an estate in the Bahamas. It also allowed him to fly the airplanes that this aviation nut (and commercially licensed pilot who has actually flown jets for Qantas) loves.
"The secret to a good and successful marriage is to not look for secret formulas" — John Travolta
The freedom that success brought them made Preston think of getting back to work but only in a way that would not affect her family life. "When I decided to get back into acting I was trying to get back in as 'Mrs. John Travolta,' which meant I had to start proving myself all over again," she said. "One of the most wonderful things about Kelly is her commitment to being a mother. Even when she went back to work, she would work only when I was not doing a film – she didn't want both of us working at the same time," said Travolta.
On Jan. 2, 2009, a tragedy of unspeakable depth struck Travolta and Preston when their son, Jett, died while the family was on vacation at their estate in the Bahamas. Jett had a seizure (he suffered from Kawasaki disease and was afflicted by autism) and hit his head on the bathtub. Any parent will tell you that losing a child is an unthinkable horror. Because of the family's celebrity, the public nature of their pain just added to the weight of it. Their sorrow was intensified tenfold when Travolta and Preston were the victims of an extortion plot involving three Bahamians (including a member of the Bahamian parliament, an emergency medical technician, and a former senator). These people tried to extort millions from Travolta in exchange for documents they claimed they had regarding Jett's death that they would make public if they were not paid. All three were arrested and charged with abetment and conspiracy to extort. Even though Travolta was still deep in mourning, he testified at the trial.
In the year since, both Travolta and Preston have returned to work, as a kind of therapeutic way of trying to slowly reckon with the loss of their son. Preston has made films starring Kevin Spacey (Casino Jack) and with Miley Cyrus (The Last Song). Travolta has been less active professionally, having appeared only in From Paris With Love (in which Preston also appeared). He was in the news during the Haitian earthquake tragedy when he volunteered his own Boeing 707 jet to be used to fly supplies and personnel in and out of the disaster zone.
The 20-year marriage of  Travolta and Preston has been successful for another reason as well: marriage counselling. The couple have made a habit of seeing a marriage counsellor as a regular part of their lives, not just during a crisis or tension but as a way of continuing to focus on what is important in their marriage.
For Travolta and Preston, the last few years have been, to quote Charles Dickens, the best of times and the worst of times. But now, with the news that Travolta, 56, and Preston, 47, are getting ready to welcome the newest addition to their family, is definitely a positive indication that they are back to better times.