Robert Downey Jr. and Mickey Rourke: Fall & Rise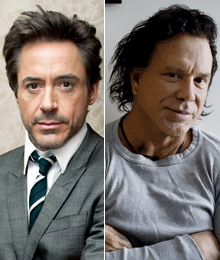 There are no accidents; everything happens for a reason. Those who choose not to learn from their mistakes are doomed. As they say, there is no worse fool than an old fool. For life is a learning experience and mistakes are one of the courses available in the curriculum of life. The more lessons we learn from the mistakes we make, the wiser we will be. What we must keep in mind is our dreams, however ridiculous they sound. Everyone is good at something and belief can be the strongest driving force that can make any of our dreams possible. Fame comes and goes, stars rise and fall, but dreams live forever. Two of the greatest examples available for us to draw from are Robert Downey Jr. and Mickey Rourke. If mistakes plus lessons learnt equals wisdom, then these two must be the wisest men in Hollywood.
The colours in the 1980s photos that capture RDJ and Rourke living in the penthouse of Hollywood's power hierarchy have faded. The '80s have long gone and the '90s and the '00s provided these two talented and tortured souls with multiple rock-bottom realizations. Their toxic escape from drugs and alcohol had them both running further and further away from the truth of their talent. From the edge of mortality to the insurmountable road that they needed to embark on in order to make all their recent successes  occur, RDJ and Rourke have stared into the eyes of the devil and lived to tell the story.
All the recent success leading up to their mega hit, Iron Man 2 (in which they share the screen) came after burning nearly every bridge connected to Hollywood. At one stage in each actor's career they washed-up onto their own version of an island of isolation and the bridges that led to walk-on roles in Hollywood movies were no longer available. After years of learning lessons and the acknowledgment of more lessons to come, both eventually set sail for the shores of California for one more glorious day in the sun. They proved this with Iron Man 2, which smashed the domestic box office with a whopping $133 million in sales during its opening weekend.
In the past, their bad-boy attitude was impossible for the law to ignore. The justice system wasn't wooed by their everlasting flow of charisma. Prison bars pulled the plug on their cyclonic tabloid sagas but not even three years of jail combined was enough to get them to stop using drugs.
Two of Hollywood's brightest stars and biggest talents smiled their charming smiles all the way to the bottom. Tabloid revenues soared when these two destructive forces embarked on their journey to hell, and that was just one of the outside forces that contributed to their suffering – the real pain was happening within their souls. Like the mythical Phoenix, they rose from the ashes of pain to the precipice of life and death many times. Eventually they amassed the courage to choose life, a healthy choice with many responsibilities.
For RDJ, the dire optimism that makes him so bizarrely charming is a double-edged sword that also helped masquerade three decades of drug abuse.
Just like the AC/DC track from the Iron Man 2 soundtrack suggests, RDJ was on a "Highway to Hell." Thankfully his director and now wife, whom he met in 2003 on the set of Gothika was the exit off that highway that would nourish him with love and shelter him from his addiction. She was the vision that drove him to make the decision to put out the fire of temptation that singed his soul and nearly burned his career to bits.
"The best thing I can do, and I think that this is the thing that has been my saving grace, is that I consider myself a worker amongst workers. When I deviate from that, things don't turn out so sweet for me." – Robert Downey Jr.
Since then he has embarked on a drug-free journey that has given him his greatest box-office success, with smash hits like Kiss Kiss Bang Bang, The Soloist and, especially, the globally successful Sherlock Holmes and Iron Man and Iron Man 2.
Rourke's story is far less innocent. He is the type of man who carries an inner-demon that bares a "born to lose" tattoo on its bicep. In a 2009 pre-Oscar interview with Barbara Walters, he explained flirting with suicide on multiple occasions, saying "Christian guilt is what kept me from killing myself."
Assumingly, as high the mountain of success that he has climbed, as beautiful as the view is from its peak, he is always only one step away from losing it all. One step backwards and he falls of the cliff that he built and into the depths of the hell only he truly knows.
In the early days Rourke trained alongside Robert DeNiro and Harvey Keitel. He was celebrated in the late '80s and early '90s with hits like Body Heat, Rumble Fish, Diner, 9½ Weeks and The Pope of Greenwich Village. He lost it all, only to grab it again like never before.
Rourke spiralled down the porcelain walls of Hollywood's black-listed actors and from the sewage system under L.A. streets he has risen to redeem himself. The burden of talent to turmoil that broke his spirit makes his return to the limelight just that much more impressive. Just over five years ago, eTalk Canada's Tanya Kim referred to him as "Hollywood's perennial loser." Around that same time, Rourke was slowly gaining speed with small and interesting roles in films like Sin City and Domino. When the opportunity came up to be the lead actor in the The Wrestler, adversity came knocking at his door.
It took courage to play the role, filled with themes of redemption that mirrored his life. Not only did he accept but in doing so he catapulted his career back to the top alongside Hollywood's A-listers. He further explains it in an Oscar roundtable discussion with Newsweek Magazine.
"If you take a movie to pay your bills then you're doing something that you really don't want to be in." — Mickey Rourke
"[At first] I didn't want to play the piece because it was so close to me. It was about a guy whose time had come and gone, who didn't want to put out the pasture. His wife had left, he was living in a hobble, there was just too many similarities … Just his issues of age and abandonment, living in shame and denial … this is a town based on envy, if you were once somebody then you're nobody … I can't wait to do this shit." And do it he did. In doing so he was awarded the Golden Globe for best actor and nominated by the Academy – the same Academy that brushes shoulders with those who told him he would never be a star again. Rourke achieved what everyone (including himself at times) thought to be impossible. For each day that they stay clean and work at their trade, they prove to the world and most importantly to themselves that anything is possible.
Each actor might have started at opposite ends but they have both come full circle. Destiny has brought them together on the big screen and audiences are happy to have these soldiers of life back. Their defects and their comeback story make each of them a Hollywood story of their own. Hopefully one day they will release bare-bones biographies that will include all their wild stories and the beauty and pain of self-discovery. For now, fans can catch them blowing themselves up and flying through the air in the blockbuster hit Iron Man 2.
Q & A with Robert Downey Jr. Exclusive for Iron Man 2 (by Robert Hayes)
Q: Do you love working the crowd like that? I mean, all those people for Iron Man 2, it's great right?
Downey: Let me tell you, yesterday I became a little dizzy and I thought I might lose my footing. I was transported by it. Today I had my legs under me a little better, Jon and I worked out a bit, which to me is a huge, huge deal. Usually, Jon likes to point 'You say something funny, and then I'll come back, and then let's go!' and he pulls me out on stage. To me it's a little anxiety provoking. Today we actually worked out a bit so that was nice.
Q: This movie looks like it is so much fun. How much more fun did you have on this movie over the first one? Does it come with a maybe a greater degree of confidence that you have in playing this character?
Downey: Confidence was higher, fun was not necessarily the word I would use to describe it because we felt more responsible to spend more time. We had broadened our cast and our horizons.  The story is actually significantly more complex and subtle, while still you can follow it, and it beats out. No, I don't want to say that it was just fun.  It flew by, which was also odd. We felt every punch, every moment, every laugh, and everything the last time. This really seemed to be a really, really, really trying process to get this done to the best of our ability.
Q: How surprised are you that Iron Man has changed people's perceptions of you as an actor? You're in a different place now than you were say three years ago.
Downey: Yeah. It's pretty miraculous, but in a realm of miracles I think it's probably a two or three I guess. It's a movie industry thing. Nonetheless its mind-blowing to me. I had always felt like I wanted and could do something like this.
Q: You had such a great year. Are you feeling it? Is the Robert Downey Jr. renaissance in full swing? Is that what you are living right now?
Downey: The best thing I can do, and I think that this is the thing that has been my saving grace, is that I consider myself a worker amongst workers. When I deviate from that, things don't turn out so sweet for me.
Q & A with Mickey Rourke. Exclusive for Iron Man 2 (by Dimitry Plasse)
Q: How many offers did you get after the Oscars?
ROURKE: There were a lot more. The thing is trying to pick material not just for the sake of work. The mistake I made before is I would wait so long to find a movie that I was excited about and then I would get broke and have to take a movie to pay my bills. And if you take a movie to pay your bills then you're doing something that you really don't want to be in.
Q: Robert alluded to how he kind of courted you for a period of weeks or months for [Iron Man 2]. What ultimately swayed you to do it?
ROURKE: It might have been due to the fact, to be honest with you, that the first one was so successful. And that Robert, that Downey, was in it. I think it was really a smart move for whoever was pulling for Robert to be in it because usually they would have gone for a role like his with a younger kind of 'cleaner image' kind of guy. And it would have been a totally less hip kind of movie. People get Robert. He brought something to it and it transcended and elevated the material, I think.
Q: As a veteran of the industry, do you think you were better prepared for the hype that surrounded your comeback with The Wrestler?
ROURKE: Well, when you sit around and wait for the phone to ring for 10 years and it doesn't ring, when it rings you go, 'F*$k, man, wow.' Because you're very lucky when the opportunity comes by again. Because it doesn't really for a lot of people. But it did for me.
Q: Robert Downey Jr. has also had some mistakes in his past and Iron Man has been a bit of a come back for him. Did you relate to that?
ROURKE: Yeah, I knew Robert a little bit back in the day. Robert, he really is a changed man.
Q: In what way?
ROURKE: I think in every way. In the choices that he makes about what to put in his body.
Q: Can you say the same thing about yourself?
ROURKE: Not really. No. I just think – well, only with the fact that I never thought about the consequences before. About what will happen. Because I didn't care about the consequences. Now, I think, 'If I do this, then this is going to happen.' So, where I didn't do that before, now I do that.