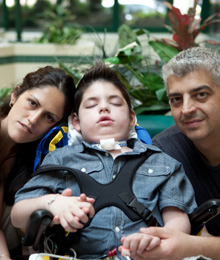 Spending most of his time in a wheelchair with open but unresponsive eyes at the Hospital for Sick Children's Critical Care Unit, Noah Facecchia is not living the life of an average seven-year-old. On the morning of Jan. 9, 2011, tragedy came down on his family as he was rushed to the hospital with persistent and uncontrollable seizures in his brain. The condition, idiopathic refractory status epilepticus, was brought on by an undiagnosed life-threatening disease, leaving Noah's loving family confused and with very few answers. Noah remains unresponsive.
On Oct. 20, 2012, Shoppers Drug Mart at 4000 Highway 7 in Woodbridge, Ont. is hosting a gala in honour of Noah. Fifty per cent of $10 ticket sales will be donated to the family, helping them find a cure and raise money for all of his care-giving needs. Doctors have Read more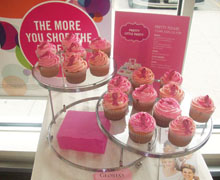 An annual fall gala uniting beauty and health had Shoppers Drug Mart's Beauty Boutique on Highway 7 and Ansley Grove Road tickled pink on Sept. 18, 2010. The Pretty in Pink event garnered much attention, with guests enjoying free makeup and skin care consultations as they fundraised money with pretty pink cupcakes by Gloria's Cakes. The Look Good Feel Better Charity – a program helping women deal with the side effects of chemotherapy through makeup and wig workshops – was the main focus at the event, with cupcake sales and $5 from each gala ticket sold going towards the program. The Beauty Boutique on Highway 7 and Read more
On September 11–12, lace up your running shoes and walk to support a fight for a cure that will end the cancer that many women suffer. Whether you're walking or opening your wallet, there are many ways you can get involved and participate. Select a fundraising goal that suits you and earn up to five $100 credits when recruiting friends and family to walk with you. To make donations or sponsor a walker or team visit www.endcancer.ca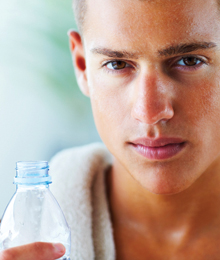 The myriad fitness regimes and supplements on the market, combined with frantic schedules, can make it difficult to find safe and effective, personalized health products.
A name that has provided the public with many of their healthcare needs over the years has now introduced the latest in innovative fitness. Shoppers Drug Mart has teamed up with Bodylogix to unveil a comprehensive line of healthy supplements that are tailored to busy businessmen, businesswomen, and parents on the go.
Bodylogix helps bring fitness into the future. By purchasing Bodylogix supplements at any Shoppers Drug Mart location, you also gain free access to www.bodylogix.com, where an online personal trainer and nutritionist will start a customized health and Read more