Shoppers Drug Mart Gala Honours Noah Facecchia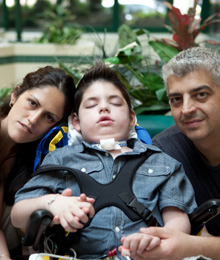 Spending most of his time in a wheelchair with open but unresponsive eyes at the Hospital for Sick Children's Critical Care Unit, Noah Facecchia is not living the life of an average seven-year-old. On the morning of Jan. 9, 2011, tragedy came down on his family as he was rushed to the hospital with persistent and uncontrollable seizures in his brain. The condition, idiopathic refractory status epilepticus, was brought on by an undiagnosed life-threatening disease, leaving Noah's loving family confused and with very few answers. Noah remains unresponsive.
On Oct. 20, 2012, Shoppers Drug Mart at 4000 Highway 7 in Woodbridge, Ont. is hosting a gala in honour of Noah. Fifty per cent of $10 ticket sales will be donated to the family, helping them find a cure and raise money for all of his care-giving needs. Doctors have told the Facecchia family that he will never wake up, but they refuse to lose faith. With hope to leave the hospital and take care of him from the comfort of their own home, Noah's parents have renovated their living space, installing an elevator, a special needs washroom and ceiling lift. Undergoing intense medical procedures and insertions for his breathing, nourishment, IV drugs and seizures, Noah has endured more than any child should.

To learn more about Noah, go to www.prayersfornoah.com
To purchase a gala ticket that will support Noah's care on October 20, 2012, visit Shoppers Drug Mart at 4000 Highway 7 in Woodbridge, Ont., or call 905-851-2199