Grand Palace Condominiums: Value and Grandeur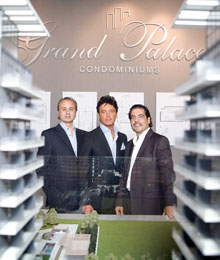 A new standard of grandeur is coming to Richmond Hill, and its name is Grand Palace Condominiums. While its lavish amenities and stunning edifice exudes opulence of the highest order, this palace isn't reserved for royalty. Its project leads, Stefano Guizzetti, Jack Scivoletto and Albert Gasparro, share a spectacular vision for this city on the rise, and it's one that doesn't cost a king's ransom.
With a name like Grand Palace, thoughts of unbridled luxury accessible only to the city's elite may parade by one's mind. But the Guizzetti Corporation team puts a halt to such processions. "It's luxurious, but it's affordable luxury," says Scivoletto, vice-president of Guizzetti Corporation. "We're trying to update the city's esthetic; to bring it up to the class it deserves." The plan is to reach beyond the now customary fare of condo living that's springing up across the GTA, to accent Richmond Hill's skyline with progressive style and to create a community that caters to and complements modern lifestyles, all starting from the low $300,000s.
Designed by renowned architectural firm Hariri Pontarini Architects, which has worked on other notable landmarks such as York University's Schulich School of Business, Grand Palace's three exquisite glass towers are fashioned with contemporary design unique within the city. Thanks to soaring nine-foot ceilings and stylish glass walls, which both come standard in each of the 524 units, living spaces are bathed in natural light. Sleek fixtures and energy-efficient appliances including Fisher & Paykel refrigerators and Whirlpool stainless-steel dishwashers, ovens, microwaves and full-sized stacked washers and dryers enhance the open-concept suites. Granite countertops and premium porcelain tiles are also standards, further adding to the prestige.



For Scivoletto, a 30-year veteran in construction and development, Grand Palace's in-suite climate control is a premium feature not to be overlooked. In many condominiums, the building's management often controls heating and air conditioning, leaving residents at the mercy of the condo corporation. At Grand Palace, however, each unit has been sub-metred, placing climate control back in the hands of residents. "You control the temperature of your home," Scivoletto says. "It not only adds to the comfort of condo living, but it's also a great way to help residences manage excessive utility costs."
While the in-suite luxuries abound, Grand Palace is more than just a place to lay your head — it's a hub that accommodates all facets of life. Commercial and retail spaces make up the base of the towers, placing services immediately, and literally, at residents' feet. Conference centres, party rooms, outdoor terraces, 24-hour concierge service and guest suites are available for both business and pleasure, and a tranquil winter garden is open for peaceful strolls year round. But the pièce de résistance is the Grand Spa. "We wanted the spa to be more than a typical pool and gym," says Scivoletto as he outlines the fitness studio, yoga studio, sauna, pool, whirlpool and lounge it houses. "It really adds a resort feel." It's a significant and welcomed feature, one that places Grand Palace head and shoulders above the competition.
"We strive to be the best at what we do," says Guizzetti, president of Guizzetti Corporation. "We wouldn't be happy with a mediocre project. It had to be top-notch." Guizzetti's father, Giovanni, was a key figure in shaping Richmond Hill and the Yonge Street Corridor. It's a city Guizzetti still calls home and one he hopes to influence with the same respect and honesty as the family patriarch. "We treat people the way we want to be treated," adds Guizzetti, who's worked in land development for over 20 years. "And that's reflected in our project."
To mark their shared commitment to Grand Palace, each partner also bought his own unit — an unflinching and automatic reaction, Guizzetti explains. "We wanted to back what we're saying," adds Gasparro, partner and director at Guizzetti Corporation. "Owning a unit in the project that you're building is just that."
Client response has already demonstrated the demand for such age-old attitudes. All three partners note how many customers insist on dealing directly with specific team members because of the integrity and honesty they're shown. It's a fact Scivoletto exemplifies by hurrying away to welcome entering clientele. "We understand that this is how customers expect to be treated," Gasparro explains. The 30-year financing veteran adds that this shared stance helps foster a strong working relationship between all three partners. "We complement each other, we all listen to each other and we solve problems very quickly, which is great for a project and great for our clients."
While they take great pride in this landmark project, when it comes to charitable efforts, the partners remain reserved. Gasparro humbly outlines his work with Sunnybrook Hospital, to which he donated over $1 million, and the Yellow Brick House, a shelter for abused women and children. Philanthropy, he says, is a natural extension of being a responsible corporate citizen and a necessary means for helping crucial organizations operate. "It's our job to support and to provide the means to do what they need to do," adds Gasparro, also a recipient of the Star of Solidarity from the Italian government. "This in turn allows the community to grow."
The GTA is budding with condo developments of all shapes and sizes, but few offer the range of amenities, luxuries and value of Grand Palace. Gasparro's words sum up the impact Grand Palace will have on the city: "I think this project in Richmond Hill will be the benchmark for which all others will be measured."