Chevrolet Volt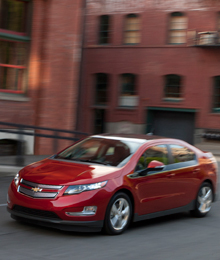 A shocking revelation in eco-friendly driving has made its way to the Great White North, and its name is the Chevrolet Volt. After the buzz about its marathon battery life, the 2011 Motor Trend Car of the Year is now modestly cruising Canadian streets, and for the environmentally conscious driver, this car is a hit.
When GM released the EV1, the first mass-produced electric vehicle (EV) of the modern era 15 years ago, it was received with much content, even though it was available only through lease. In a controversial fashion, however, GM killed off the EV1, citing unprofitability as its demise. Because public perception shifted towards eco-friendly transportation, major automotive manufacturers have changed course.
For the past few years, the auto giants have been trying to win over the eco-conscious with their fuel-efficient hybrids and battery-powered EVs. But while EVs are great city cars, their limited battery life has been the source of nail-biting "range anxiety," and hybrids still use gasoline regularly.
The Volt, the EV1's successor, on the other hand, strikes a middle ground. It's been trumpeted as the only EV with "extended range," but in reality, it's more of a neo-hybrid. In its initial electric mode, the Volt runs off of battery power for 40 – 80 kilometres, depending on factors such as speed, use of climate control and outdoor temperature. When the battery runs dry, the 84-horsepower, 1.4-litre combustion engine kicks in. It doesn't drive the wheels, however. Instead, it acts like a generator, powering the battery and giving the Volt an impressive 500 km of additional life. Among the celebrities to own the Chevy Volt is car aficionado and TV host Jay Leno, who, after driving the car to work for a year, has yet to top up the electric car with gas after clocking in 17,000 km.
This new engine configuration means if your commute totals around, say, 50 km, you may start to forget how to work the pumps. But if you're up for a road trip beyond the city limits, this mid-size sedan won't cause you to sweat, either.
It's difficult to determine the actual fuel economy of the Volt, as it varies depending on driving style and daily use, yet you'll be getting the equivalent of 3-L/100 km when running on electricity. When the petroleum-powered engine kicks in, you could be using as little as 5-L/100 km. However, the U.S.'s Environmental Protection Agency gave it a more conservative rating of 6.4-L/100 km. Either way, that's fantastic fuel economy – great for the environment and your wallet.
The inaudible 111 kW electric motor obviously isn't a thoroughbred, but it does deliver a respectable 149-hp and diesel-like 273 lb-ft of torque, will hit a top speed of 160 km/h, and do 0 – 100 in about nine seconds, providing plenty of functionality for both city and highway driving.
When it's time to recharge, a standard 120V socket will top off the 16 kWh lithium-ion battery in 10 –12 hours – about four if you use a 240V – costing roughly a buck to charge.
What's more, compared to other eco-friendly hybrids and electrics, the Volt actually looks quite sharp. An athletic posture gives it a sporty esthetic, and the reserved design avoids being ostentatious. On the inside, after the Volt hums to life, a LCD display relays standard info like remaining range, gasoline levels and speed. A neat little efficiency gauge also helps you drive as economically as possible. An intuitive seven-inch touchscreen is mounted in the centre dash for navigation, climate control, energy information and XM satellite radio use.
While there's much to praise, the Volt does come with a price tag: $41,545 MSRP for the base model. Owners are eligible for an $8,230 rebate from the Ontario government, and don't forget the substantial savings on fuel. As well, due to the sizeable battery situated down its centre, the Volt only seats four. There's decent cargo space under the hatch, but if you have a larger family, the Volt might only be a secondary vehicle. If you're an environmentally focused bachelor/bachelorette, newlywed couple or daily commuter looking for the pinnacle of fuel efficiency, the Volt will more than serve your needs. www.gm.ca
SPECIFICATIONS: Chevrolet Volt
Five-door hatchback extended-range electric vehicle
Engine: Drive motor, 111 kW
Horsepower: 149 (electric motor)
Torque: 273 (electric motor)
Top speed (km/h): 160
Transmission: Electric drive system
Drivetrain: Front engine/front-wheel-drive
Fuel economy L/100km: 6.4 on gasoline, 3.0 equivalent on electricity
Base MSRP: $41,545