On Aug. 18, 2012, Zanchin Automotive Group officially unveiled Maple Auto Mall − the latest addition to its group of 27 premier dealerships. Festivities kicked off with a ribbon-cutting ceremony hosted by Mary Garofalo, correspondent for CTV. Guests enjoyed finger-licking barbecue, courtesy of the Knights of Columbus, and delicious Italian food from Rome'n Chariot. Read more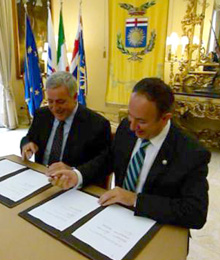 With an objective to establish close relationships with cities that have similar goals, Vaughan Mayor Maurizio Bevilacqua signed a memorandum of understanding with Guido Podestà, president of the Province of Milan, Italy. Effective in three years, the memorandum will promote a mutually beneficial exchange of information, sport and culture. The signing ceremony was held in the capital of Lombardy, marking the beginning of a business relationship between the Province of Milan and the City of Vaughan.
Mayor Bevilacqua looks at Milan as "the gateway for innovation, entrepreneurial activity and business into Italy and the European Union." Because of this positive outlook, he believes the bilateral agreement will benefit Vaughan greatly, giving the city the ability to pursue economic opportunities.
Read more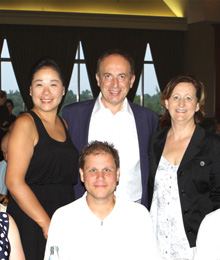 Mayor Maurizio Bevilacqua's Annual Charity Golf Classic was an overwhelming success, with more than 200 golfers raising thousands of dollars for not-for-profit and community organizations. "It is an incredible feeling to be the mayor of a city where the spirit of generosity defines its very essence," says Vaughan Mayor Maurizio Bevilacqua. Taking place at Copper Creek Golf Club on July 17, 2012, the double shotgun tournament featured hole-in-one, closest to the pin and longest drive contests, as well
as a silent auction.
www.vaughan.ca
Read more
The Bellvue Manor hosted over 650 guests for an evening of auction bidding, a five-course gourmet meal and live performances by George St. Kitts. Over $80,000 was raised in support of disabled children, making this year's gala a success! Gala chair Tony Zingaro says thank you to everyone involved. Read more
Mayor Maurizio Bevilacqua's Annual Charity Golf Classic was held on August 15 at the Copper Creek Golf Club. Hundreds of golfers participated in the inaugural event that, together with the 2011 Mayor's Gala, raised over $650,000 for community and not-for-profit organizations. Mayor Bevilacqua Read more
Close to 1,000 guests joined Mayor Maurizio Bevilacqua at the 2011 Mayor's Gala, the city's premier annual fundraising event in support of Vaughan's not-for-profit and community organizations. This year's gala, Our Journey – Our Future, marked Vaughan's 20th anniversary and emphasized its generous and Read more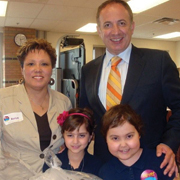 In 2009, two students, Eva and Aliyah, were diagnosed with cancer, and since then, St. Emily's Elementary School has been showing Vaughan what it means to support one's community. On June 13, 2011, the 3rd Annual Angel Hair Day for Kids united the entire school as staff and students watched 28 female students and 16 male students cut their hair to help provide wigs for young cancer patients. In attendance was Vaughan Mayor Maurizio Bevilacqua, who spoke to the St. Emily community. "When I look at you, I am so confident about the future of the city," he said. Read more
On Feb. 11, 2011, at the Venetian Banquet Hall in Vaughan, over 300 family and friends, along with Vaughan Mayor Maurizio Bevilacqua, came out to support Vaughan in Action's 'Viva Las Vegas'-themed Annual Fundraising Gala. Emcee Barb Di Giulio, radio host of 680 News and Fan 590, along with Vegas showgirls, DJ Universe Music, singers Christopher Dallo and Brian Roman kept guests entertained. The event raised $20,000. Read more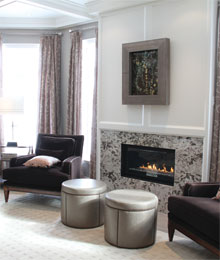 The latest enclave from Beaverhall Homes was officially welcomed by the prestigious community of Woodbridge this past February with a ribbon-cutting ceremony held at its model home on Charmaine Road.
Joining the development firm, interested buyers and city officials to celebrate the arrival of Regency Estates was Vaughan Mayor Maurizio Bevilacqua. "As a city we are very proud of the housing choices we offer our citizens. Regency Estates embodies refinement, class and elegance in the best tradition of Beaverhall Homes. It is a welcome addition to our community," he says.
Developed by Ami Tamam, principal of Beaverhall Homes, Regency Estates reflects the intricacy of a reputable and experienced builder. It shines in his vast portfolio of fine work as an Read more