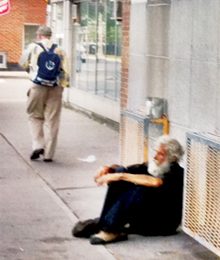 South of Toronto's Queen Street, at Shuter and Jarvis, an elderly man is tickling the ivories to the tune of Freddie Mercury's Bohemian Rhapsody. He isn't singing along, but it's easy to hear the lyrics as he pours his soul into the second floor of The Good Neighbours' Club. Is this real life? Is this just a fantasy? The windows are slightly cracked, letting a grand talent anonymously infiltrate the outside world. Based on the crowd he's garnered, there's a sense that this centre for homeless and marginally housed men over 50 offers a lot more than food and shelter.
The Piano Man is surrounded by some of the city's most imaginative minds: members like Ronald Reeve who joined in 2004 and spends his days drawing cartoons and comics that highlight socio-political issues within his community. His preferred pen is sparkly, but specialty ink is running low these days. Read more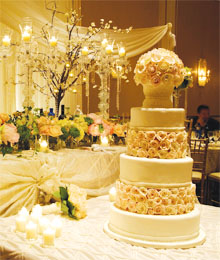 Not many banquet halls are quite like The Venetian, where you can look around and admire huge mosaics and glance up at a ceiling decorated with inspiring paintings and mouldings. The lobbies feature double tiers of gold, off-white and beige. The light reflects on the colours, juxtaposed with those of the mosaics and paintings to create an architectural masterpiece – a hall that not only displays art but is, in itself, a work of art.
The Venetian accommodates a variety of events, cultures and needs. It hosts everything from bachelor parties and showers to sacraments and weddings, including bar and bat mitzvahs and can cater to a wide variety of cuisines including Kosher, European, Chinese and Middle Eastern. Clients can also opt for a more traditional menu. "We pride ourselves on the diverse selection of food and services offered," says owner Joseph Mete. Read more