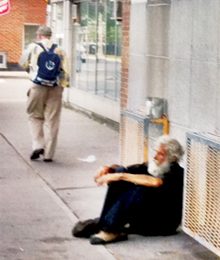 South of Toronto's Queen Street, at Shuter and Jarvis, an elderly man is tickling the ivories to the tune of Freddie Mercury's Bohemian Rhapsody. He isn't singing along, but it's easy to hear the lyrics as he pours his soul into the second floor of The Good Neighbours' Club. Is this real life? Is this just a fantasy? The windows are slightly cracked, letting a grand talent anonymously infiltrate the outside world. Based on the crowd he's garnered, there's a sense that this centre for homeless and marginally housed men over 50 offers a lot more than food and shelter.
The Piano Man is surrounded by some of the city's most imaginative minds: members like Ronald Reeve who joined in 2004 and spends his days drawing cartoons and comics that highlight socio-political issues within his community. His preferred pen is sparkly, but specialty ink is running low these days. Read more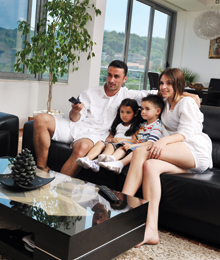 Our connected world heavily relies on Internet access, but with the weighty costs of connectivity, Canadians might want to switch out the leather and tighten their belts with an Ethernet cable.
According to studies by the Organization for Economic Co-operation and Development (OECD), the cost of Canadian Internet access is substantially higher than other developed nations (see sidebar). With the tight data caps imposed by major internet service providers, costs to Canadians are becoming constricting.
Through Bell, for example, data caps range from 2 gigabytes (GB) of downloading for $28.90/month, up to 75 GB for $62.90/month. A standard 25 GB package goes for $38.90/month. Varying download speeds aside, you're paying roughly $14.45/gig on the bottom and $0.87 on the top end. Read more