Homelessness: The Good Neighbours' Club [w/video]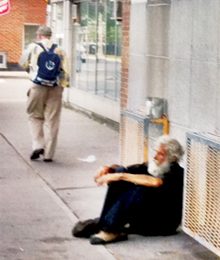 South of Toronto's Queen Street, at Shuter and Jarvis, an elderly man is tickling the ivories to the tune of Freddie Mercury's Bohemian Rhapsody. He isn't singing along, but it's easy to hear the lyrics as he pours his soul into the second floor of The Good Neighbours' Club. Is this real life? Is this just a fantasy? The windows are slightly cracked, letting a grand talent anonymously infiltrate the outside world. Based on the crowd he's garnered, there's a sense that this centre for homeless and marginally housed men over 50 offers a lot more than food and shelter.
The Piano Man is surrounded by some of the city's most imaginative minds: members like Ronald Reeve who joined in 2004 and spends his days drawing cartoons and comics that highlight socio-political issues within his community. His preferred pen is sparkly, but specialty ink is running low these days. "It gives me an opportunity to express my artistic ability. Dan there, he's encouraged me along," he says, pointing to a tall wavy haired man with artwork on his pants.
Dan Walsh came to The Good Neighbours' Club a year ago with his artistic gift in hand, ready to make a mark on a much bigger picture: poverty. "Being a professional artist, I felt it was time to move it over, pay it forward if you will, and I love it, it's application, it gives me purpose definitely," he says, adding that he loved the colour aspect of Reeve's work so much that he decided to put it on his pants. As he peers into the distance, Walsh recognizes the juxtaposition between having a club for homeless men across the street from The Grand Hotel and Suites, and a few lights away from where Isadore Sharp forged the very first link in his lucrative Four Seasons chain. On Jarvis Street you'll find dreams everywhere – whether it's to build a real estate empire, or simply have a roof over your head.
In his quest to volunteer, Walsh came across Wayne McKinnon, better known as 'Cape Breton Red,' a respected local artist and former billiard master who was once one of The Good Neighbours' Club's homeless members. Try walking through the halls with McKinnon today without someone stopping him to share a story or shake his hand. Impossible. "I used to come here and finally I joined, and now I teach an art class here and it's a blessing. I don't know anything really, but I do know life is wonderful and it's all in choice, I'm able to make a choice today," says McKinnon, whose success story serves as a lighthouse for those trying to find their way in the dark.
What began during Canada's Great Depression as a support system for WWI veterans now provides approximately 5,000 of Toronto's homeless, disabled and socially isolated men a sense of community. Open 365 days a year between 8 a.m. and 5 p.m., The Good Neighbours' Club sees about 200 people daily and has an array of services from hot meals, showers, clean clothes, phones and Internet access, and hosts regular visits from nurses, psychologists, health specialists, housing workers and dental hygienists.
Unfortunately, not all members can be saved. On Aug. 25th, 2011, McKinnon, Reeves and Walsh joined The Good Neighbours' Club and its supporters in commemorating the legacy of late member Paul Croutch. "He's in a better place right now and I do know that," McKinnon says.
Resting on a bench just down the street at Toronto's Moss Park is a bursting bouquet of red, pink and yellow reminders of the perils of homelessness. These flowers mark the spot where Croutch had his last sleep. It was there next to the baseball diamond that the 59-year-old was awoken – not by the violent storm outside – but by two drunken Canadian Forces reservists who senselessly beat him to death six years ago. Croutch was a father. He was once a journalist who co-founded a community newspaper. And like many of Toronto's homeless, he had a difficult childhood and suffered with health and mental illness issues. The heinous attack that took place on Aug. 31, 2005, continues to plague the community, especially The Good Neighbours' Club which launched The Day of the Homeless to honour him.
Raymond May Burgess lays the flowers there every year. They aren't forget-me-nots but in many ways they represent a life that will never be forgotten. Burgess, who helps further the centre's mission to enhance the lives of homeless men, remembers the days when he would deliver clothes and food to Croutch's bench instead. Dozens of citizens, politicians, media and fellow members surrounded The Good Neighbours' Club to raise awareness at this year's third annual event. At the press conference, Burgess recognized individuals who have made extraordinary strides, presenting them with the first-ever Paul Croutch awards.
One of those recipients is Judy Graves, the city of Vancouver's housing advocate who formed the Vancouver Homeless Outreach Project in 2005, which successfully took hundreds of people off the street and into affordable housing in its first two years. During her acceptance speech, Graves used Croutch's story as the insignia of a much larger issue. "I visited his bench. I saw where he was zipped into his sleeping bag and couldn't escape, and if he had even a small home of his own, he'd be alive with us here today," she tells the crowd. "People are often quick to point out that the people in the streets have made poor choices, but I think we're all old enough to know that if we're perfectly honest with ourselves, we have all made poor choices," she adds, heads nodding in agreement.
Former Toronto mayor, and current senator representing Ontario, Art Eggleton sang from the same song sheet, emphasizing the fact that four million Canadians don't have affordable housing. "When I talk about affordable, I'm talking about the CMHC guideline, the federal guideline that says people shouldn't be paying over 30 per cent of their income on housing. Well, there's people paying 50 or 60 per cent," he says. Of Toronto's 93, 198 social housing units, only 70, 379 of them have rent that's geared to 30 per cent of the household's income. These figures show how slippery the slope is. Imagine adding addiction and mental illness into the picture. "One in three single men in this country live in poverty. Now this is the land of plenty, this is one of the richest most prosperous countries in the world. How can we allow this to happen?" asks Eggleton, adding that it'd be far less expensive for taxpayers to get people off the street and into decent, affordable housing.
There were many speakers that day at The Good Neighbours' Club. From Toronto Centre MPP Glen Murray, who announced the renewal of an $80,000 grant, to Ryerson University president Sheldon Levy. While supporters seemed attentive, you could still hear a faint fluttering of voices and the heavy snarl of truck engines that passed by Jarvis Street every few minutes. There was even a member who repeatedly referred to the event as a "photo-op," expressing disappointment in the lack of results. There was one moment, however, where a poignant silence covered the corner of Jarvis and Shuter streets like a chilled blanket. It was when 22 names consecutively hummed through the speakers. They were the names of members who died last year.
Toronto Central Local Health Integration Network, United Way and the City of Toronto are The Good Neighbours' Club's primary sources of revenue, but without the added help of volunteers and outside corporations, the club wouldn't be able to survive on its modest operating budget. "It's really hard because really, you know, who are you going to donate to, a club to men over 50 or Sick Kids Hospital? And it's very difficult and everybody keeps asking for funding, so it's very difficult for us to get any type of funding," says program assistant Alex Zsager. While the club recently received a federal grant to renovate its washroom, laundry and shower facilities, there are still several service expansions and facility upgrades it hopes to provide its members within the near future.
There are many levels to The Good Neighbours' Club, but the second storey is perhaps one of the most meaningful to its members. It isn't where the food is served. It isn't where the clothes are cleaned. There's no showers or social workers up there. Instead, you'll find a rainbow of paints and canvases. You'll see political cartoons and poetry. And on a good day, you might just hear the piano.