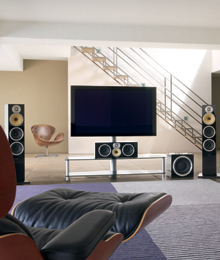 Innovations in modern home entertainment provide a plethora of possibilities for families to enjoy their media however they see fit. Although fascinating, today's technology can be the source of much confusion. Celebrating 25 years of home audio/video experience, who better than the experts at Audio One to provide valuable insights into how new technologies are creating exciting prospects for household entertainment.
"Home entertainment is becoming so customizable it's no longer a question of, 'what can I do with this room, but rather, 'what do you want to be able to do in this room?'" says Gino D'Ascanio, home audio/video specialist and partner at Audio One.
With extensive expertise in high-calibre home theatre and music systems, the team at Audio One is well aware of Read more
Dane Cook is staring at cover art for his Greatest Hits album. He's narrowed the title choices down from 15 to three and his deadline is today. The creative process has caused the sandy haired star comedian to take a scenic route down Memory Lane – long before his Forbes list fortune and arena-filling fame. He's spent the last few weeks listening to grassroots routines and discovering edits of CDs that he didn't even know existed. "It's interesting – watching and listening to the evolution of myself. It's very, very strange." He pauses. In that brief silence you can hear the deafening authenticity behind Cook's quiet confidence.
Ankle-deep in conversation, it becomes refreshingly apparent that one of Time magazine's 100 Most Influential People hasn't let sold-out stadiums and Hollywood movie roles alongside Kevin Costner, Kate Hudson and Steve Carell Read more