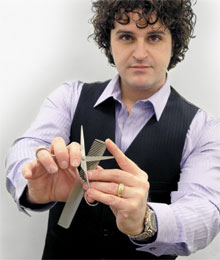 A woman sits in a swivel chair, biting the bottom of her lip nervously.  She knows it's time to transform her hair – long and brittle from a long, cold winter – into something she can feel confident about. With the calming aura and natural talent of David Grossi, she rises from her chair with a smile and glowing new hairstyle.
Since his teenage years, Grossi has dabbled in the art of hair design, amassing 25 years of first-hand experience in the business. His roots in the industry began by watching his hairstylist-father at work, finally picking up the scissors himself to coax unruly and unmanageable manes into something to behold. "Anything I can see with my eyes I can do with my hands," says Grossi. "It's a wonderful feeling to go to work every day with 100 per cent confidence." Read more
Dane Cook is staring at cover art for his Greatest Hits album. He's narrowed the title choices down from 15 to three and his deadline is today. The creative process has caused the sandy haired star comedian to take a scenic route down Memory Lane – long before his Forbes list fortune and arena-filling fame. He's spent the last few weeks listening to grassroots routines and discovering edits of CDs that he didn't even know existed. "It's interesting – watching and listening to the evolution of myself. It's very, very strange." He pauses. In that brief silence you can hear the deafening authenticity behind Cook's quiet confidence.
Ankle-deep in conversation, it becomes refreshingly apparent that one of Time magazine's 100 Most Influential People hasn't let sold-out stadiums and Hollywood movie roles alongside Kevin Costner, Kate Hudson and Steve Carell Read more