1. BROOKLYN'S FINEST
Discover a new sense of style with the modern and comfort-seeking Brooklyn Home Décor Collection.
www.geovin.com
2. AS LUCK WOOD HAVE IT
The Domicile Stool adds elegance and luxury to your home environment.
www.elte.com
3. A FULL PLATE
The Turquoise Cambria Dinnerware collection brings warmth and appetizing ambiance to every family dinner table.
www.potterybarn.com
4. NATURAL BEAUTY
Set the stage for the outdoor season with the Palmetto All-Weather Wicker Rounded collection.
www.potterybarn.com
5. UNDER MY UMBRELLA
Add comfort to your outdoor oasis with the Chatham Chaise Outdoor backyard collection.
www.potterybarn.com
Read more
Find your haven within developments that are reshaping the suburban scene.
Capo Di Monte
Debuting on the edge of a forested ravine, Capo Di Monte will offer the perfect balance between classic and scenic. On the corner of Major Mackenzie and Pine Valley drives, residents will be a touch away from Woodbridge's colourful core while still within an arm's reach from the stunning countryside.
www.royalpinecondos.com
Expo City
Downtown-style luxury comes to a community on the rise. Within walking distance of the forthcoming subway extension, these pristine condos connect Vaughan residents to the excitement of the Big City without leaving the community they call home.
www.expocity.ca
Read more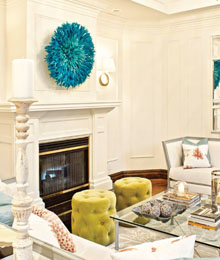 SHADES OF GREY
Nothing contrasts better than a sensual red against a brooding grey. Striking and thought-provoking, designer Kristine Mullaney spills her mind onto her canvases to craft spaces with balance and boldness. www.kristinemullaney.com
SITTING PRETTY
With its pretty, Parisian vibe, this rosy seat can be the cherry on top of your vintage décor scheme. Designed stunningly and textured to perfection, the Souffle Cocktail Chair is as much eye-candy as it is comfortable. www.kellywearstler.com
GET THE SCOOP
Mix up your kitchen creations with these delicious Mosaic Salad Servers. With popping colours and a summery pattern, every salad

you toss with these spoons will give off sunny vibes.
www.shopcaster.com
Read more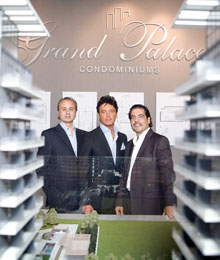 A new standard of grandeur is coming to Richmond Hill, and its name is Grand Palace Condominiums. While its lavish amenities and stunning edifice exudes opulence of the highest order, this palace isn't reserved for royalty. Its project leads, Stefano Guizzetti, Jack Scivoletto and Albert Gasparro, share a spectacular vision for this city on the rise, and it's one that doesn't cost a king's ransom.
With a name like Grand Palace, thoughts of unbridled luxury accessible only to the city's elite may parade by one's mind. But the Guizzetti Corporation team puts a halt to such processions. "It's luxurious, but it's affordable luxury," says Scivoletto, vice-president of Guizzetti Corporation. "We're trying to update the city's esthetic; to bring it up to the class it deserves." The plan is to reach beyond the now customary fare of condo living that's springing up across the GTA, to accent Richmond Hill's skyline with progressive style and to create a community that caters to and complements modern lifestyles, all starting from the low $300,000s.
Designed by renowned architectural firm Hariri Pontarini Architects, which has worked on other notable landmarks such as York University's Schulich School of Business, Grand Palace's three exquisite glass towers are fashioned with contemporary design unique within the city. Thanks to soaring nine-foot ceilings and stylish glass walls, which both come standard in each of the 524 units, living spaces are bathed in natural light. Sleek fixtures and energy-efficient appliances including Fisher & Paykel refrigerators and Whirlpool stainless-steel dishwashers, ovens, microwaves and full-sized stacked washers and dryers enhance the open-concept suites. Granite countertops and premium porcelain tiles are also standards, further adding to the prestige.

Read more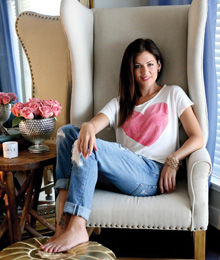 Interior designer and former Bachelorette star Jillian Harris lives life by love and design.
Q: What led you to pursue a career in interior design?
A: My family has always been very crafty and into design — well, my mom, mostly. She owned a few home décor and design stores when I was a kid and I always remember being so fascinated with moving my furniture around, decorating my room and thinking of fun colour schemes. Growing up in a small town in northern Alberta, a career as an interior designer wasn't really an option. It wasn't until I moved to Calgary and was juggling a waitressing job at Cactus Club and a retail job at Caban that I fell in love with the idea of being a designer. Shortly after, I applied to be the executive assistant to the creative director of Cactus Club and it was then that my career in design was born. Read more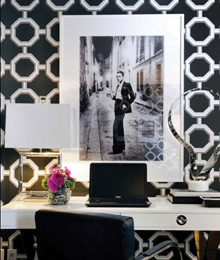 Unwind in a beautiful space full of colour and surrounded by art.
1. HOME IS WHERE THE HEART IS The award-winning firm Atmosphere Interior Design is known across North America for its striking work and visionary team. Using rich textures and bold furniture, designers Trevor Ciona and Curtis Elmy join project manager Heather Whyte to make clients' dreams of a beautiful home come true. www.atmosphereinteriordesign.net
2. A LONG SHELF LIFE Choose a shelving unit that also stands as an art piece. This Chicago 8 unit is available in a variety of hardwood finishes and beautifully complements a modern home. www.urbanmode.com
3. TIME AFTER TIME 1212 Décor in Toronto will give you timeless interior design. Offering home consultations and a spectacular showroom Read more
Our natural landscape is our best resource when it comes to inspiration, especially with colour. Neutrals are often considered exclusively to be white, grey, cream, brown, and even black, but there are other hues nature offers, and it's time to incorporate them back into our spaces.
While decorating with neutrals can be a very chic approach to design, you also need to make sure you don't create a room that feels bland or boring. What if neutral colours didn't have that boring connotation attached to them? What if neutral colours weren't just shades of cream and grey? Can you extend neutrals into other colours? The answer is yes, because a neutral colour helps to balance and create harmony with dominant hues. Read more
By way of limited resources, I was able to pull together a backyard bash for a family celebration. It was held outside because our house was undergoing a complete renovation, but with a bit of ingenuity, it all came together seamlessly. First, we hauled our table and a few chairs from our storage space to create a pleasant dining area. Next, I dug up some vintage frames purchased at garage sales and thrift stores, spray-painted them white, and placed them onto the brick façade of our home.
The lunch was meant to be light and refreshing, with chicken salad croissant sandwiches and fruit. For dessert, I served an array of candies, cookies and cupcakes. Plain water and lemonade were served as drinks, but I kept things interesting by adding cucumber and lemon slices. I also found small glass bottles, which I filled with milk. I then added some cookies on top for a fun treat – which the children and adults enjoyed equally. Read more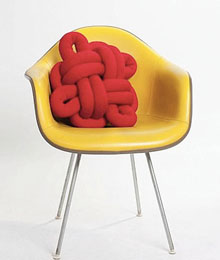 From the enchanting chandelier hanging from the ceiling to the unusual design on your bedroom walls, beauty can be found all around you. And with access to some of the most abstract and extraordinary items in the world, you too have the power to enjoy life, no matter how boring the workday. The best way to start is with something that you use every day: a lamp or a water jug, for example. By introducing design into common items, you can experience the world through different points of view. Learn to live in the now, think outside the box, and establish a personal style of authenticity by training your eye to find beauty in the items that surround you. Everyone has been stuck in a daily routine at some point or another, but those who find bliss take time to appreciate the smaller things in life.
Read more
From pastoral pieces to colourful complements, these additions will accessorize your home, no matter what your style.
Packed with recipes from Italy's Calabria region, Rosetta Costantino brings old-world fare inspired by the seasonal ingredients from her family's garden to the North American kitchen in her cookbook, My Calabria. www.chapters.indigo.ca
You can hang this spherical copper light alone or in groups to form shiny chandeliers. Either way, this gleaming Tom Dixon fixture reflects its stunning surroundings. www.abchome.com
Wrapped in smooth leather and accented with orderly nail studs, the Yucca Chair from Zilli Home brings life to any room, adding a distinct, edgy look. Read more