At Home with Decorium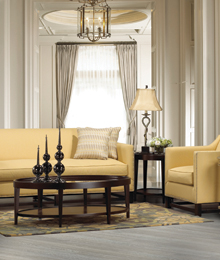 Any home can be beautiful when all the right elements are in place. But it takes time, experience and good taste to achieve this. Enter design destination Decorium, a wonderland of expertise and everything you need to craft your surroundings into spaces that reflect your lifestyle and budget. "We're family owned, and we're on-site to create the home that so many people have trouble creating," says CEO Steve Forberg.
From premium furniture, home accessories and occasional pieces, to lighting, children's furniture, bedroom and dining sets, Decorium is more than just your average furniture store. With a showroom that soars at 60,000 sq.ft., unending styles are conveniently divided into five design categories. Noting the confusion that comes with packed big box furniture stores that don't offer one-on-one design consultations and fashion advice, Forberg asks, "Why visit five stores when you can visit five stores in one?"
If you're searching for the blueprint to an effortlessly elegant home, the Classic or Full Traditional rooms at Decorium abound with timeless furniture pieces and exquisite additions that will transform your house into a well-dressed home. If you prefer an eclectic look, the Modern, Contemporary and Metropolitan rooms spill with deco glam pieces that will saturate your condominium or office space in style. "A lot of people come in and don't know what they want, but we work with them to suggest certain styles. Once the design consultant has determined their style, a client is then guided to the lifestyle area of the showroom that suits their taste," says Forberg. Thirsty for fresh pieces to brighten their lives, homeowners and design enthusiasts alike visit the emporium regularly to get a glimpse of up to 100 new pieces that are added to the showroom weekly. Involved with several charities, such as The Princess Margaret Welcome Home Sweepstakes, and having worked with most of the city's developers – including the renowned Shane Baghai – the Decorium brand is ubiquitous.
While a trend of restored wood paired with linen dining chairs and sofas is hot right now, Forberg makes it clear that quality craftsmanship never goes out of style, and that every customer request is fulfilled. "If a customer likes a certain chair but the fabric of another, we'll make them the chair they want. We're big enough to move a lot of product, but we're small enough to care." Synonymous with prestige, Decorium's products and bestsellers are always on-hand in its 40,000 sq.ft. warehouse.
Leading Decorium successfully through shaky economic times and burgeoning competition, Forberg continues to apply his family's winning formula of high-level customer service and affordable prices to a furniture business that has stood the test of time for three generations.
www.decorium.com
416.736.6120