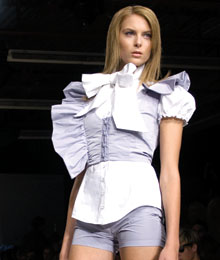 Some of the fashion industry's top designers flocked to Toronto for LG Fashion Week last fall to showcase their Spring 2010 collections. Among them was Project Runway Canada's season two finalist Jason Meyers, who wowed a fashion-infatuated audience with fresh colours and cutting-edge designs. "I really try to design with the aspects of timeless and edgy," says the Hamilton born designer, who had his own tailor as a teenager.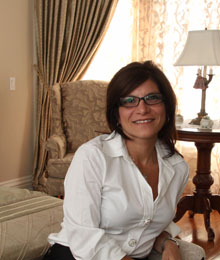 Windows that speak for themselves.
With each stitch and sew, perfection is at its best in the hands of Anna Maria. As a skilled seamstress and accomplished designer, Anna Maria applies her love of fashion to dress your home in haute couture designs. "Drapery brings elegance and style to a space. Essentially, window dressings complete a room while establishing its ambience," says Anna Maria.
With years of experience under her belt, Anna Maria delivers luxurious and unique window designs that work harmoniously with her clients' lifestyles. As a graduate of Toronto's George Brown College's Creative Fashion Design program, Anna Maria infuses refined style and sartorial elegance into all of her work. "My love of fashion carries over to my drapery – it's a Read more
"God created us in all shapes and sizes," says Irma Matarazzo. She, along with her husband, Antonio, is the backbone of a successful tailoring business, which has stood the test of time since 1968.
Established on the foundation of Antonio Matarazzo's dream to bring quality craftsmanship to our doorsteps, the revered House of Rome brings tailoring to a new level, while surging forth the art of the cut. As a penta-lingual master of the bespoke suit, Antonio will meticulously fuse your measurements, style and taste with the age-old practices of Italian couturiers.
A rarity, Antonio finds his place as one of the very few existing master tailors in the world, with a design background culled from Naple's prestigious Galleria Umberto I Cappozzoli School. Read more