Behind the Drapes with Anna Maria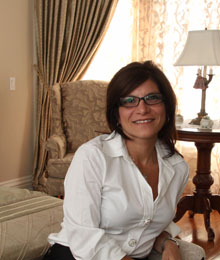 Windows that speak for themselves.
With each stitch and sew, perfection is at its best in the hands of Anna Maria. As a skilled seamstress and accomplished designer, Anna Maria applies her love of fashion to dress your home in haute couture designs. "Drapery brings elegance and style to a space. Essentially, window dressings complete a room while establishing its ambience," says Anna Maria.
With years of experience under her belt, Anna Maria delivers luxurious and unique window designs that work harmoniously with her clients' lifestyles. As a graduate of Toronto's George Brown College's Creative Fashion Design program, Anna Maria infuses refined style and sartorial elegance into all of her work. "My love of fashion carries over to my drapery – it's a passion that I have, to create classic pieces," she muses. "I don't just put fabric on a window – I put unique styles, elegance and timeless designs."
As a self-proclaimed fashionista, Anna Maria is the principal designer of Drapery by Anna Maria, a mobile business that only employs exceptional fabrics from premier suppliers. "Our commitment to a high standard of quality has attracted decorators like Anna Maria," says Vince Lo Curto, general manager of Alendel Fabrics Limited. "Anna Maria has been a loyal representative whose creativity and decorating skills complement any room or setting," he adds. Navid Afsharian of Soletex Fabrics agrees: "Elegant silk jacquards, fashionable European jacquards, beautiful designer sheers and stylish hardware from Soletex Fabrics allow Anna Maria to apply her wonderful creative talents." She also receives gorgeous material from Unique Fine Fabrics Import Inc., where fresh ideas and unique patterns are produced.
Never afraid of a tailoring obstacle, Anna Maria prefers to work with silk, a challenging fabric that delivers stunning results. Inspiration for her delightful designs stem from her clients' personalities, as well as blending current trends set by the industry. Anna Maria receives the highest quality window coverings crafted with the finest of materials from Delor Window Coverings.
Spoiling you with personal service and an engaging consultation, Anna Maria's  unparalleled vision has you exploring never-ending options. After your windows are meticulously measured, the sewing specialist works fervently to create your own custom drapery.
Paying homage to the sophisticated elegance of the art of tailoring, Drapery by Anna Maria produces fresh, original designs that spill with uniqueness. "The pride that I have, to see it all come together in the end, is incredible."
Introducing intricate, hand-stitched Swarovski® crystals, detailed accents and trimming. Available only by Anna Maria. Call 905.856.8655 for her designs.