Steve Jobs: A Visionary Great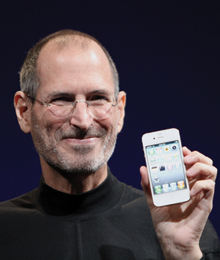 When Albert Einstein formulated E = mc2, he changed how we looked at the universe. When John Lennon told us to Imagine, he changed how we heard music. And when Steve Jobs gave us a new device, he changed how we interacted with technology. When the Internet exploded with dialogue discussing the passing of the 56-year-old Apple co-founder on October 5, it can be said with all confidence that millions of people did it using the products he created. This is his legacy; this is the most important innovator in the last 35 years.
No one, especially in the world of technology, has influenced more lives than Jobs. Rival developer Bill Gates spoke of the pleasure of knowing him, Facebook creator Mark Zuckerberg thanked him for showing "what you build can change the world," celebrities wished him a heartfelt farewell, U.S. President Barack Obama acknowledged his greatness, and millions of people around the globe Tweeted, Facebooked, and paid tribute to the memory of Steven P. Jobs. Who else could match such a feat?
"Steve Jobs, one of the most widely respected and recognized technology pioneers of our age, is largely responsible for putting a personal computer in our home and more recently, in our pocket," says Canadian technology expert Marc Saltzman. "He changed how technology products should look, how we interact with them and what we could do with them as tools to enhance and enrich our lives."
He helped bring the Apple II – the first complete, ready-to-use, right-out-of-the-box personal computer – to the public in 1977. He also co-founded Pixar Animation Studio in 1986, and introduced the world to the first entirely computer-generated feature film, Toy Story, in 1995. When he returned to Apple in 1997 to salvage the sinking company, he didn't listen to the likes of Michael Dell, CEO of Dell Computer, when he suggested shutting the company down. Instead, Jobs brought a renaissance to computing.
It was a remarkable time. There was a stark revolution in the tech world, something never seen before: technology was sexy. It wasn't just about speed and productivity – computers were forming to the individual's personality and lifestyle. With the release of products like the colour-varied iMac (1998) and the portable iPod (2001), technology was fashionable. Celebrities were being asked, "What's on you iPod?" Desktop computers were stylistically clean and sleek, and those iconic earbuds were instant style statements. These were devices you could proudly show off without shame or embarrassment. Without question, geek was in.
Technology was now something that could match your wardrobe, and computers were far more approachable than those hulking towers ominously looming over desks. And all the while there was Steve Jobs, smiling in his standard black turtleneck and blue jeans, unveiling each new piece of tech, and always adding, "But there's just one more thing."
Jobs just understood where technology was going. He recognized that the merger of science and art – functionality and design; technology and personal expression – were what resonated with people. "There's certain products in our life that when you see them you really appreciate the fact that they speak to you," says John Pliniussen, associate professor and specialist of e-marketing, sales and innovation at Queen's University. Jobs wasn't an engineer or a programmer; he was an architect forming tools that shaped our world – ones appreciated for their beauty as much as their abilities.
His philosophy towards tech was reflected in Apple's marketing direction. While other companies would promote their products on speed and performance like some horse-power-pumping sports car, Apple instead focused on what mattered: connectivity. Apple  devices talked to each other. They could interface together in ways that no other tech developer could match. Your iPod easily connects to your Mac, and iTunes automatically organizes your music. Simple. Clean. Accessible. "I think, mostly, they [the public] love how user-friendly the products are and how they interface with each other so seamlessly," adds Pliniussen.
But it wasn't just connectivity between devices – it was the way these products connected people. When he took the stage on Jan. 9, 2007, and unveiled the iPhone, Jobs was bringing another revolution to the world. Sure, there were smartphones before, but none had the soul of the iPhone. Users now held the power of a portable computer in the palm of their hand, but the real strength was in how it changed our interactions with others. It became the benchmark imitated by a throng of hangers-on all trying to capture its magic through touch screens and apps.
When the iPad was revealed in 2010 – heralded a 'post-PC' device – it was just one more innovation that would carry other developers on its coattails. Competing tablet devices can play all the music, movies and games they want, but it's the simplicity and emotional connection that Apple's products create that always drew the attention of the world. It's no secret: no one wants a tablet – they want an iPad.
I asked a close friend who is quite the Apple aficionado why Jobs had resonated so profoundly with him. He explains that Jobs was a "storyteller." People didn't just connect with his products, but with him. His soon to be released authorized biography has already topped Amazon's bestseller list – a testament to this ability. He was personable. He was innovative. And he was genuine. While we can read stories about his brutal honesty or his arrogant demeanour (he certainly wasn't afraid to call out competitors onstage), he really felt that technology could revolutionize our lives – that our organization and interaction could be shaped by our beloved devices. He lived every day as if it was his last and never feared failure. He was always reaching and never listened to the naysayers. And he always encouraged, as he said in his commencement speech at Stanford University in 2005, to "Stay hungry. Stay foolish." Of the end he said,"Death is very likely the single best invention of life. It's life's change agent. It clears out the old to make way for the new … Your time is limited, so don't waste it living someone else's life."
As I sit in front of my iMac and listen to my iPod Touch, Jobs' influence is undeniable. Macs are a staple in design studios, iPads are being used more and more in classrooms, and Apple is one of the most profitable companies in the world. Jobs has brought us this far, but who will be next to take up the flame?  Either way, when history books are cracked 20 years from now, Jobs will be the man remembered, unquestionably, for shifting the world's technological paradigm. Who knows, they'll probably even have an app for that.