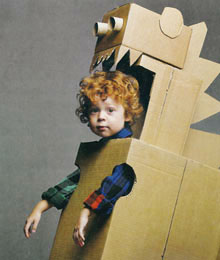 Christmas isn't just about presents and decorations; it's about love and family. So try to give to those who are in need – and remember: your money won't be just another present to them, but a symbol of love and compassion. Here are some places where you can get started: Read more
Over $10,000 was raised in support of the SickKids Foundation at the 3rd Annual Believe Gala. The event featured patient, Kaitlyn O'Brein, who spoke about her experiences at the hospital. Entertainment included Christian Rocco Boni and Juno Award-winner Carlo Coppola. Next year's Believe Gala is Oct. 22nd, 2010. Read more
On your marks, get set, go! The crowd went wild as the checkered flag waved and race cars took off in support of SickKids Foundation, earning an astounding $1.4 million on Sept. 26th in an effort to end Read more
We've scoured the city, chatted with prominent people and examined the evidence, all in our attempt to unearth the source of Vaughan's allure. This is what we found.
Green Initiatives
With numerous green initiatives in place such as the Greening Vaughan program and an impressive 740 hectares of parks and acres of land ensured by the Woodlot Protection Strategy, Vaughan is committed to painting the city green. "The woodlots that you see that are speckled through our subdivisions are going to be there through perpetuity. Vaughan is one of the first municipalities in the province of Ontario to do this," says Vaughan Mayor Linda Jackson. Read more
A red carpet-style event ensued at Luxy Night Club, one of Vaughan's elegant event and entertainment venues. Held on Aug. 29th of this year, the lavish, black-tie affair held once again by Ramiro Villafuerte with RAMIRO productions raised funds to support the Heart & Stroke foundation, SickKids Foundation and the Abruzzo Earthquake Relief Foundation. As attendees enjoyed hors d'oeuvres and wine, international artist Amanda Morra, MMVA nominee Karl Wolf, along with a trendy Altamoda fashion show, provided entertainment for the crowd. www.citygala.org
Photo: Marianna Riossi, co-organizer of the City Gala 09 event along with Bart Kacki, the owner of Luxy Entertainment Complex, co-organizers of City Gala 09, Julia Filillippi, and Franca Abate.

The Rebel Golf Tournament started off as a Rebel Hockey team until little Jasmine Calabretta was born. This inspired her dad, Aurelio Calabretta, and friends to turn the team into a golf fundraising Read more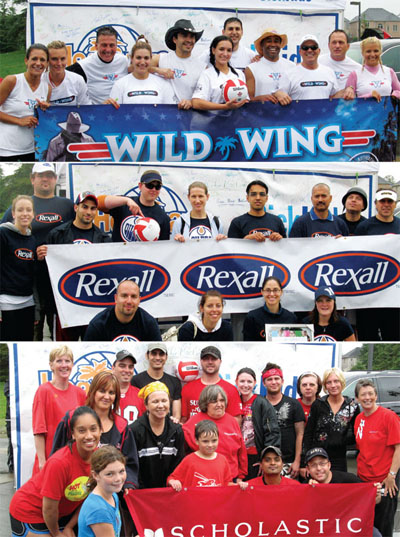 "The children at SickKids who are fighting cancer are true heroes," says Rosanne O'Neil. On June 20th, 2009, sponsors and volunteers joined O'Neil as they dodged and dove into the summer sand for the Heatwave Beach Volleyball tournament in support of the Hospital for Sick Children. Despite the uncooperative weather, the drizzling rain did not stop these kind-hearted athletes from contributing to the cause. Raising over $1 million in the last five years, the SickKids Foundation continues its tradition of summer beach fun for the cause.
www.heatwaveevents.com
TOP: Sponsors of Wildwing proudly hold up their banner to support the Heatwave York Region for SickKids.
MID: Sponsors from the Katz Group Canada Inc. proudly present their banner for support of SickKids.
LEFT: Scholastic Canada Ltd. sponsors count themselves in the Heatwave Event as one of the main sponsors.