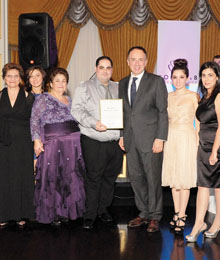 On Nov. 9, 2012, the Believe committee hosted its 6th Annual Red Carpet Affair in support of SickKids Foundation at the Venetian Banquet Hall. Helping to raise $20,000, guests enjoyed entertainment by Enrico Gallante, Christian Boni and DJ Marco Del Biondi. The Believe committee would like to thank all guests for their continued support, and for believing in SickKids.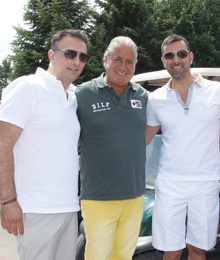 Over 20 years ago, Peter Eliopoulos, founder of byPeterandPauls.com, created Care for Kids, a charity golf tournament to raise much-needed funds for the Hospital for Sick Children and New Leaf. This year's event once again took place at the Carrying Place Golf and Country Club and it was a tremendous success, with over $1 million raised to date. Read more
The first annual Rev It Up event was a great success. On July 15, 2012, the event for SickKids commenced at Ride Motorcycles Toronto, and eventually reached the beautiful Vineland Estates Winery in the Niagara Escarpment for lunch and a wine tour. Guest celebrities included emcee Walter Venafro of Jazz FM 91, former Miss Universe Canada Elena Semikina, grand marshal Jillian Smith, Dr. Joel Kirsch of Sickkids, and Justin Bieber's father, Jeremy Bieber. Over $50,000 was raised, thanks to all of the dedicated riders, sponsors and volunteers.
www.revitupforsickkids.com
Read more
The seventh annual Heatwave York Region corporate volleyball tournament on June 16, 2012, served up good times and competitive matches. The one-day tournament featured a co-ed beach volleyball tournament with 21 teams, as well as great food, drinks and prizes. Since the volleyball challenge started in 1995, the event has expanded across the GTA and includes a winter tournament, Icewave, as well as additional tournaments in Halton, Waterloo, Durham, Halton, Peel and the Hamilton-Niagara area. All proceeds support SickKids and the SickKids Centre for Research and Learning. To date, the weekend volleyball events have raised more than $2 million for childhood cancer research at SickKids.
Read more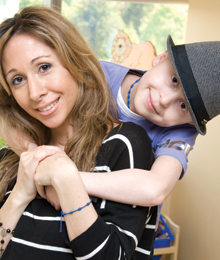 When he was seven, Joey Mazzucco's life was turned upside down by cancer. At an age when play is a child's biggest concern, Joey was placed at the foot of an ominous mountain and told to climb. It was a demanding trek, but Joey refused to judge the journey as a tragedy. There was no time for self-pity, no use in lamenting. He donned his favourite fedora, embraced the power of optimism and climbed. Why? Because there was simply no other choice.
When Joey's right shoulder began shooting with pain in the summer of 2009, a torn rotator cuff was thought to be the source. A visit to the Hospital for Sick Children (SickKids), however, revealed the tumour causing his duress, and Joey was diagnosed with Ewing's sarcoma, a rare and aggressive form of bone cancer. Read more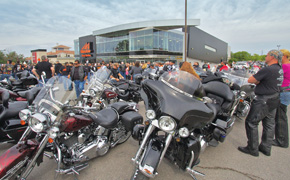 On Aug. 21, 2011, Mackie Harley Davidson in Oshawa presented the 3rd Annual Ride for SickKids. With over 400 registrants attending the scenic motorcycle ride throughout Durham Region, funds raised to-date surpassed the $125,000 mark, all going towards the new Research and Learning Tower at SickKids. Committee members Nella Figliano Greco, Joseph Manzoli, Mark McConkey, Brynn Gordon and Patricia Ianniciello would like to thank all those who helped make this a special event. Read more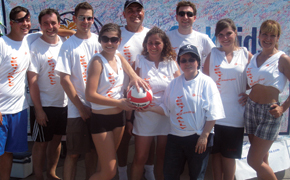 York Region caught some volleyball action as Heatwave York Beach Volleyball Challenge for SickKids celebrated its sixth year on June 18, 2011, at the Sports Village in Vaughan. Two dozen corporate co-ed volleyball teams squared off for fun in support of a great cause. To date, the Heatwave tournaments have raised more than $2 million for childhood cancer research at SickKids. www.heatwaveevents.com Read more
Diagnosed with a rare form of cancer, Andrew Mizzoni underwent extensive treatments and surgeries at the Hospital for Sick Children at a young age. A recovered Mizzoni and his family were so grateful that they have raised over $400,000 to support pediatric cancer research at SickKids over the past decade. Before his 19th birthday, Mizzoni received his real estate licence, making him one of the youngest real estate professionals in Canadian history. An agent with Homelife Metropark Realty, Mizzoni decided to donate a percentage of his commission from every transaction to support SickKids. www.andrewmizzoni.com Read more
On June 19th, 2010, charitable athletes joined together for some fun in the sun at York's largest beach volleyball event. Raising money for SickKids, teams worked hard to get pledges and donations for an amazing cause. The top fundraiser for Heatwave York Corporate Challenge 2010 was Clover Tool Manufacturing Ltd. Team "Vertically Challenged," which raised $19,500 for childhood cancer research at SickKids. The prizes, sponsor giveaways, food, mingling and intense volleyball matches made for Read more
Police officers Lisa and Jarrod Boon were overjoyed when they became the parents of a beautiful healthy girl on Feb. 18, 2009. But just four months after Suri Olivia Boon was born, she was diagnosed with ATRT, a form of aggressive malignant brain tumour. "We just couldn't believe it. We never asked why it was happening, Read more