Spring is in the air, and Pantone's Fashion Colour Report has you in the know for all the season's hottest new shades. Hopscotch your way through a spectrum of lights and brights.
1. TAKES THE CAKE
Planning a spring wedding? Treat your guests to a lip-smacking creation from I Do! Wedding Cakes. Cake designer Olivia Nguyen knows how to craft a delicacy that's unique to you, making your fete a deliciously memorable one.
www.idoweddingcakes.ca

2. WORDS OF WISDOM
Start your day with a positive kick by cracking open this charming weekly calendar. Stay organized and inspired while planning your 2013 adventures.
www.chapters.indigo.ca
3. HEAD IN THE CLOUDS
Bright and cosy, the Rosette Euro Sham from Anthropologie will infuse your home with energy and bring some warmth to your down time.
www.anthropologie.com
4. BRING THE BLING
Australia's trendiest accessories boutique has pieced together this coral-toned beauty. Reminiscent of the beaches, cocktails and sunsets of summer, it's a piece that'll give you a tropical boost.
www.elkaccessories.com.au
Read more
Milk, eggs, bread … beer? Under an Ontario Progressive Conservative government, six-packs, 26ers and bottles of red could be lining shelves next to the essentials provincewide. Ontario PC leader Tim Hudak has made it clear, if elected, he has no plans to be involved in the booze business. "Let's let the private sector into the alcohol business, let's have some more competition," he said to reporters back in December.
"It's time to end the LCBO and Beer Store monopolies."
Easier access to alcohol is certainly enticing for consumers who enjoy the odd drink. But what would having alcohol in grocery and convenience stores mean for the province? Furthermore, will it even happen?
For Dave Bryans, CEO of the Ontario Convenience Stores Association (OCSA), such reform would meet consumer demand for convenience. "This is an archaic alcohol control system," he says of the LCBO and Beer Store, both established in 1927. "We live in a more mature, quicker moving society that expects convenience." According to Bryans, Ontario is dragging its feet and needs to keep pace with other provinces, like British Columbia, Alberta and Quebec, which all have partially or fully privatized systems. This past July, a petition containing more than 112,000 signatures calling for alcohol to be sold in convenience stores was presented by the OCSA to the Ontario government, bolstering Bryans' position. "These are voters," he says, "Liberals, NDPs and Conservatives standing in line at convenience stores saying we want you to carry our voice to Queen's Park and help us."
Read more
The telltale ting of the sitar provides the soundtrack to my first meditation class. A wooden flute weaves its way through the track and already I feel like my preconceived notions about meditating are being met. The sounds are coming from a stereo in a simple meeting room at the North York Public Library. I make my way to the back to avoid standing out in a crowd of about 20 presumed masters that seem far more attuned.
Despite my cavalier best efforts to camouflage myself, I am quickly discovered. Someone hands me an informative diagram for beginners on how to raise the Kundalini (a dormant, corporeal energy at the base of the spine viewed as a motherly spirit) and a biography on the founder of Sahaja Yoga meditation. A gentle-looking Russian man stands at the helm of the room, anxious to begin. He introduces Read more
After losing her father to lung cancer, watching her marriage break down and finding out that she had a cyst in her lung, mother-of-three Patricia Testani decided to take control of her life. On Dec. 17, 2009, she joined Paul's Boot Camp by Integrity Fitness, and has since seen her life change in immeasurable ways.
Testani started off taking Level 1 circuit training classes two to three times a week, focusing on a combination of cardiovascular and resistant exercises. "They were very encouraging," she says. Then, during the summer of 2010, despite being a non-smoker, she was told that her cyst had evolved into a tumour that would require surgery. Less than two months after having a third of her lung removed, she was back at Paul's Boot Camp. "They were very helpful, they knew when not to push me and when to push me, and it worked out very well."
Read more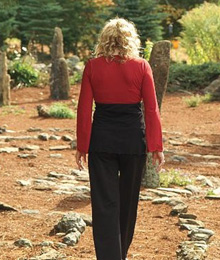 Seven years ago I watched an Oprah Winfrey interview with David Bach, bestselling author of Smart Women Finish Rich. He was a top financial advisor on Wall Street and described how his stress-ridden life had become divided into "15-minute units". One morning he arrived at the office, looked at his calendar and found he had one 'unit' unfilled. He went into a mild form of a panic attack. This, followed by a big 'ah hah' moment, changed his perspective of life and his destiny forever.
It is very easy for most of us to fill up every 'unit' of our day with work, commitments, emails, and now, for many, frenetic text messaging. But when and if we finally get a little break, we immediately look to fill up that space and find something else to occupy our mind.
Read more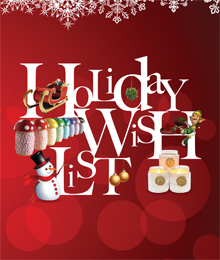 Bells are ringing, lights are glowing and the snow is falling – the holiday season is upon us once again. As the city transforms into a winter wonderland, filling your heart with that holiday cheer, it's also time to dive into those crowded malls in search of smile-inducing gifts.
No doubt you've probably already embarked on several of these adventures, crossing friends and family members off your list; but there always seems to be that one person you can't find the right gift for – that finicky friend or special someone who needs the perfect present.
Finding those final gifts can be a challenge, but not to worry. We've explored the city to put together our yearly Holiday Wish List to help you wrap your way through the Holidays! Read more
Ultimately, life goes by in a blink. And too many people live the same year 80 times. To avoid getting to the end and feeling flooded regret over a live half-lived, read (and then apply) these tips." – Robin Sharma
01. Exercise daily.
02. Get serious about gratitude.
03. See your work as a craft.
04. Expect the best and prepare for the worst.
05. Keep a journal.
06. Read The Autobiography of Benjamin Franklin.
07. Plan a schedule for your week.
08. Know the 5 highest priorities of your life.
09. Say no to distractions.
10. Drink a lot of water. Read more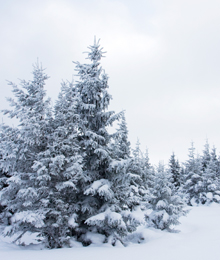 1. Michelle Zerillo-Sosa, Editor-In-Chief/Publisher Festive songs, lights and the cheery moods of people bring serenity to my life. I find myself wishing for this feeling to last past the Holidays.
2. Angela Palmieri-Zerillo, Director Of Operations I'm inspired to give – not just material things – but to give more of myself and my time. I want to instill these virtues in my children while minimizing the emphasis on receiving gifts. We are so blessed, and I want my kids to be grateful for that!
3. Fernando Zerillo, Creative Director Family is so important. I enjoy being surrounded by the ones I love during Christmas. There is nowhere else I'd rather be than at home, snow falling, drinking hot chocolate with my family while watching Christmas movies! Read more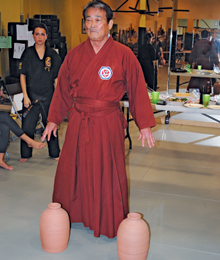 There is an ancient Buddhist proverb that says, "When the student is ready, the Master appears." If such is the case, Northern Karate Schools' students must be well-prepared, as Hokama Tetsuhiro and Shiroma Kiyonori, both 10th dan Hanshi, graced them with their presence this past September.
"It was a great honour to have men of their stature visit our schools," says Kyoshi Cos Vona, an instructor and sixth-degree black belt at Northern Karate. "It's extremely rare to have experts of this calibre visit North America, let alone Canada."
From the island of Okinawa, Japan, the birthplace of karate, Hokama and Shiroma both hold the rank of "Hanshi," essentially a senior expert or grand master. Through demonstrations and lectures, these teacher-of-teachers shared their vast knowledge Read more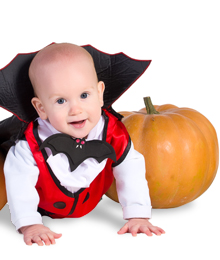 The world's population is set to hit seven billion on Halloween.
According to the United Nations, the world's population will hit seven billion on Oct. 31, 2011. A rather staggering figure, considering that in 1927 – less than 90 years ago – only two billion humans inhabited Earth. While we tend to celebrate childbirth in our economically prosperous nation, perhaps hitting this marker on Halloween is a menacing omen for the trick – rather than treat – it may turn out to be. Concerns over resource allocation, disease, rising living costs and environmental stress will accompany innocent newborns, as the next 100 years face some terrifying prospects. Shortages of food and fuel will be an obvious concern, but water is far more precious, and due to climate change, is becoming scarce in many regions. Animal extinction is another issue. Read more