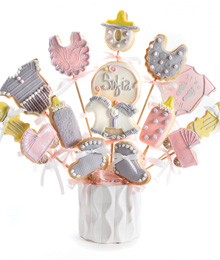 There's nothing quite like a homemade cookie – each soft bite filling you with scrumptious and nostalgic pleasures. The Cookie Messenger holds these age-old sentimentalities close to the heart with each stunning and delicious cookie bouquet it creates.
"It's a feast for the eyes, as well as the palate," says Daniela Nicosia, co-owner of The Cookie Messenger, Canada's only cookie bouquet company. Along with her partner, Gioia Grandinetti, the pair creates colourful arrangements of edible art that are ideal for any occasion. For spring celebrations, a pastel floral bouquet will break the mould of conventional sweets, and with Mother's Day around the bend, a personalized family bouquet with your mother's photo as the centrepiece is a unique and considerate way of expressing appreciation.
Read more
Get the latest looks, treats and toys for your little ones and those young-at-heart.
1. At Gymalaya, a gymnastics club geared towards children, your kids can tumble and roll in a safe, supportive environment. Using state-of-the-art equipment and a stimulating curriculum designed for a fun experience, your children will build physical, mental and social skills. www.gymalaya.com
2. Sure, bikes and rollerblades are all great fun, but only the Wiggle Racer utilizes the power of a jiggle. Suitable for boys and girls of all ages, this sleek little ride requires no batteries or fuel. Read more