City Life Holiday Gift Guide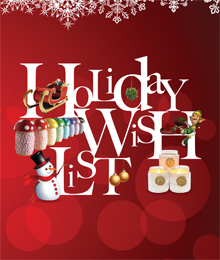 Bells are ringing, lights are glowing and the snow is falling – the holiday season is upon us once again. As the city transforms into a winter wonderland, filling your heart with that holiday cheer, it's also time to dive into those crowded malls in search of smile-inducing gifts.
No doubt you've probably already embarked on several of these adventures, crossing friends and family members off your list; but there always seems to be that one person you can't find the right gift for – that finicky friend or special someone who needs the perfect present.
Finding those final gifts can be a challenge, but not to worry. We've explored the city to put together our yearly Holiday Wish List to help you wrap your way through the Holidays!
You'll find gifts for everyone in your life, from the outdoor adventurer and trendy fashionista, to the wired techie and home decorator. Oh, and you might find one or two surprises you hadn't thought of. Happy Holidays!
Cute, cuddly, hand-knitted bear and made for custom order. (www.etsy.com/shop/GregoryPatrick, prices vary)
Record your off-road adventures in crisp 720p HD video with Liquid Image Impact Series HD Digital Camera MX Goggles. (www.thesource.ca, $280)
Like a cherry on a sundae, the Stitched Scarlet Cloche tops off a colourful outfit. (www.anthropologie.com, US$58)
Your little fairy will pirouette over the sweet scent of Philosophy's Sugar Plum Frost shampoo, shower gel and bubble bath and high-gloss lip shine. (www.sephora.com, $23)
For the diver in your life, the 3H Oceandiver 52 is stylish, sporty and water-resistant up to 150 metres. (www.cupidodesigns.com, $595)
A 16-hour, built-in rechargeable battery makes the Tivoli Audio iPal Radio ideal for the on-the-go music aficionado. (www.baybloorradio.com, $199)
Brimming with art deco charm, the Henley couch is a classically stylish throwback. (www.decorium.com, $3,000)
The Cozy Cable Throw is a soft and warm relief when reading on those chilly winter days. (www.chapters.indigo.ca, $69.50)
Made from organic cotton, Frank & Fishcer's Bibba Pig cuddle cloth is soft on your baby's skin. (www.missm.ca, $21)
Eau de LaCoste's three different scents are perfect for the powerful, fresh or elegant gentleman. (www.sephora.com, $62)
Sparkling diamonds on 18-karat white gold – the Vanesa is sure to make her smile. (valentejewellers.com, $2,500)
Stay warm and in-style with the faux fur of this lightly padded jacket. (www.hm.com/ca, $60)
The Nest Thermostat learns your in-home habits, programs itself and even saves energy. (www.nest.com, MSRP $249)
Capture those precious holiday moments in vivid detail with the Nikon D3000. (en.nikon.ca, $350)
The festive Capri Blue Mercury Glass Candle is a homemaker's delight. (www.anthropologie.com, US$25)
Simple and cute, the High Gloss Teapot will cap off those holiday feasts. (www.chapters.indigo.ca, $24.50)
Make the Natural Bay Leaf Garland a pretty pastoral piece in your festive decorating. (www.potterybarn.com, $90)
Tap into the mind of Apple's co-founder in Steve Jobs by Walter Isaacson. (www.chapters.indigo.ca, $35)
Spheres of twigs sparkle with rustic charm on the Little Twig Globe. (www.potterybarn.com, $90)
Start your holiday mornings with a warm espresso using the Brasilia espresso machine. (www.molisana.com, $150)
Blackberry, plum and a hint of coffee form the medium body of Tilia's Malbec. (www.lcbo.com, $13)
The Juliaca Knit Stocking is a playful departure from traditional Christmas stockings. (www.anthropologie.com, $38)
No home can go without a tree. This faux evergreen radiates with merriment. (www.potterybarn.com,  $389 –$519)
This personalized printable poster is perfect for your little one's room. (www.etsy.com, US$15)
A simple leather band carries a spherical glass stone on this versatile bracelet.  (www.pandora.net, $115)
It's over-sized eyes make the Owl Christmas Ornament a wise addition to any tree. (www.etsy.com, US$13)
Race the Silverlit Interactive Bluetooth Remote Control Enzo Ferrari using only your iPod, iPhone or iPad. (www.apple.com/ca, $80)
Will you answer the Call? The Call of Duty: Modern Warfare 3, that is. (www.futureshop.ca, $60)
It's the king of tablets and every tech lover's dream. It's the iPad 2. (www.futureshop.ca, $520)
Simple and sophisticated, this bold peacoat is a smart standout. (www.cartise.ca, $365)
Give the gift of hope with World Vision gift cards. (www.worldvision.ca, $30 – $200)
Glamorous yet festive, this metallic pillow is made for the holiday diva. (www.chapters.indigo.ca, $29.50)
Classic winter design with a sharp shawl collar from H&M. (www.hm.com/ca, $60)