Giuseppe Agrippa takes the scenic route with his wide-ranging landscaping firm
The city's lush, sprawling backyards have become a hotbed for seasoned landscapers, but one green-thumbed entrepreneur has risen above the rest. "The fact that we're able to transform nothing into something that people can enjoy for years is an incredible feeling," says Giuseppe Agrippa, president of Vaughan Landscaping. Agrippa, who founded his company 11 years ago at the age of 20, has cultivated his craft into an all-encompassing, award-winning firm focused on quality, customization and client care.
"Word of mouth has played a big part in our success," says Agrippa, who caters to homeowners across the GTA and recently transformed a Forest Hill backyard into a breathtaking retreat. "I'm there from start to finish to ensure the level of quality is something I can be proud of. You're only as good as the people who work for you so I have a skilled team behind me."
From patios, pergolas, stonework and gazebos, to lighting, irrigation, water features and pool construction, Vaughan Landscaping and Agrippa's subsidiary company, Vaughan Pools, can turn any outdoor space into an intimate oasis.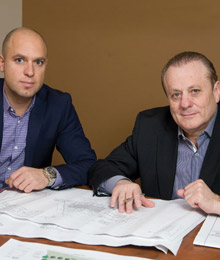 There are times when significant moments have the ability to transform the course and purpose of our lives. For Alfredo Aiello, that defining moment came on a crisp spring day in the 1970s after successfully selling a family's house in Etobicoke and relocating them to a new home in Mississauga. The selling and buying process wasn't just a transaction for the aspiring Aiello — it was the starting point of a career embedded in a feeling of pride and sense of accomplishment that comes from finding families the perfect home. Alfredo's initial experiences in real estate eventually set forth the foundation of a promising career, one that would expand and continue over four memorable decades.
Immersed in the industry since March of 1975, Alfredo got his feet wet in residential resale and commercial real estate before working at a leading development firm in Vaughan. "In 1984, I became involved in the new homes division at Greenpark Homes, keeping my land and commercial touch as I explored a part of real estate that intrigued me," says Alfredo, who continued to pursue his passions in and around the GTA. Soon enough, his son Massimo Aiello began to display interest in his profession, obtaining his Broker's Designation at the tender and rebellious age of 19. With Alfredo's expertise in new homes and Massimo's proficiency in customer and company liaisons, the father-son twosome decided it was time to set out on their own.
Cristina Piccirillo of Dominion Lending Centres introduces her expert band of mortgage brokers
Cristina Piccirillo
Mortgage Broker/Owner at Dominion Lending Centres
The Goal: To grow, to gain more agents, to give back and to unlock new opportunities. 
The Calling: For me, the most important thing is to genuinely give clients the service that they need. Everyone has a different story. I want to give clients long-term solutions, not simply what's good for right now. 
The Team: I look for people who care deeply about their clients' best interests and have a genuine desire to help others. We have a strong team.
The Journey: I joined DLC in 2007 after being in the financial services industry for 10 years. I was fortunate to be mentored by one of the top brokers in Canada, so when an agent becomes a member of my team they know I'm here to support them.
Q: What inspired you to be a photographer?
A: I remember as a child seeing an enlargement of the very famous photograph by Robert Doisneau, "Le Baiser de L'hôtel de Ville". Even then I was struck by the blend of reality and art that photography could produce. From that point on I was always searching for the magic in imagery that could tie together the experience with the esthetic. I'm fortunate that now I can bring my own expression of this phenomenon as a working photographer.
Q: What did your parents teach you about life?
A: My family has always been very supportive of my at times erratic choices in life. They encouraged me from a young age to pursue what fulfilled me and made me happy. I'm paraphrasing, but my father told me that "Each person is innately great at something" and I extrapolated from that finding. Pursuing that core ability is the purpose of a successful life.
Q: As a photographer, what message were you hoping to capture while photographing spoken word poet Shane Koyczan?
A: I was hoping to portray a number of things from my shoot with Shane. Primarily I wanted to show that he and his message could be a source for change, but I also wanted to show the character that was behind such powerful and emotional work. I chose to shoot him in a neutral studio setting so as to remove the distractions of stage and performance that are normally associated with him and bring his character, rather than his stage presence, to attention.
Read more
Victorian chairs, vintage chandeliers, antique ottomans, stainless steel sinks, sliding doors and stylish textiles fill the aisles of Habitat for Humanity's Vaughan ReStore. A haven for homeowners in the midst of renovating, a playground for value hunters and a source of revenue for one of York Region's most transformative not-for-profit organizations is breaking ground with its resourceful retail concept.
"It's an amazing success story all around and the ReStore is a big part of it," says Habitat for Humanity York Region's newly appointed executive director Tom Vegh. By selling pre-loved home improvement goods, furniture, flooring, home accessories, lighting and appliances at a fraction of the retail price, Habitat for Humanity's York Region ReStore outlets have been serving the public, preserving the environment and saving savvy shoppers money.
"We can't build homes without this," says Bryon Disera, operations manager of York Region ReStores. With an annual revenue stream of approximately $1.2 million, the Vaughan and Newmarket locations offset Habitat's administration expenses, so 100 per cent of local benefactions can go directly towards its successful homebuilding program. "It ends the cycle of poverty and gets families and their children out of unsafe situations and into safe affordable home ownership," he adds.
Read more
FULL HOUSE
It may not be the Canadian snowbird experience you envisioned, but this San Fran suite spot proffers unlikely perks you won't find bathing under a Floridian sun. If south-of-the-border real estate is on your shopping list, the Fairmont Heritage Place, Ghirardelli Square, should certainly be circled on your short list. Just a block away from San Francisco Bay and a 10-minute drive from the Golden Gate Bridge, this heritage site in the heart of a cultural hub offers a unique opportunity for fractional ownership. Starting at $169,000, these luxurious residences perched in a formerly famous chocolate factory can be shared by second-home seekers with taste.
www.fairmontheritageplace.com
Read more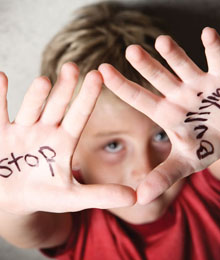 Q: How does bullying impact one's self-esteem?
A: It's not so much self-esteem but self-control. It's how you see yourself relating to others. There are kids that think there's no harm done — I didn't hit anybody; all I did was tell them that if they don't do this, I am going to come back and do something to them. It's those types of threats, or through social networks, that are effective ways to get people to do what you want. These are not appropriate ways.

Q: Can adults bullied in school move past the childhood pain to lead healthy lives?
A: Not all do. Some might say that it's had a lifelong affect on them. Others will say that they remember it but it didn't have an affect on them in the sense that it's pretty common and I just have to grow out of it. Let's say bullying happened in Grade 3 for three months — it affected you and made you feel uncomfortable for quite some time, especially in different situations. Eventually, it didn't reoccur and you feel pretty confident you're on a good track again. A lot of people will say that they were victims of bullying but it didn't affect them because it doesn't affect everyone in the same way or have a lifelong consequence. Others will say it happened in Grade 3 and then when I went to middle school, the same kid started it again, and it continued into high school. Unless they get help and talk to someone about it, it's not easy to overcome that feeling of being victimized.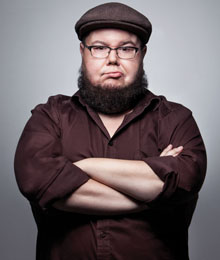 Shane Koyczan walks onto a stage, his finger nudging the bridge of his eyeglasses up to the radix of his nose. Nervously he rubs his hands together, folding one palm over the other, forming a solitary handshake before an audience awash in a hazy blue light.
He looks out to a gathering of attendees, who despite their successes find resonance in the empowering prose he was invited to disclose at the TED Conference in Long Beach, Calif. "There's so many of you," he begins, a thick beard, perhaps his most distinguishable feature, framing his cherubic face. With one hand in his pocket, the other flailing around, the spoken word poet travels back to his childhood, a time when he was asked to abandon his dreams, a place where he was discouraged from being different, a stage on which school bullies tried to get the best of him.
Swinging from humour to sadness, undulating with anger and optimism, Koyczan's chocolate voice is a pendulum of emotion as he segues into the lyrics of his most stirring poem to date. Peering into his personal bout of being bullied and the psychology of children contending with an issue that can impart profound impacts, he explores one of the universal drawbacks of our early years with an indubitably trenchant effect.
Read more
This year, the TIFF Bell Lightbox is celebrating the second and third seasons of its Subscription Series — Food on Film and Science on Film are celebrating their second seasons and Books on Film is celebrating its third season — by continuing to pair screenings of notable films with insightful lectures by experts in their fields. This year's selections feature powerful literary adaptations, a thought-provoking look at how food shapes our lives and fascinating insider perspectives on the world of science and technology. Here is a selection of the events you can attend in April and May. Tickets for individual events are available at tiff.net/subscriptionseries.
BOOKS ON FILM
Eleanor Wachtel, of CBC's Writers & Company, hosts discussions with writers and filmmakers on the challenges of adapting literature into film.
Monday, April 8 – 7 p.m.
Lisa Cortés on Precious
Lisa Cortés, executive producer of the film Precious, has spent her career illuminating the stories of those marginalized by society. Ten of those years were spent working with director Lee Daniels on adapting Sapphire's novel Push to the big screen.
Read more
Casinos: the flashing-light fantasy of cascading quarters, the thrill of chance dancing around a wheel, the ecstasy of hauling in newly won chips; the hunched backs of slot machine junkies, the dejection of "22, player busts," the empty wallets of the down-on-their-luck. Two sides of the same coin, but it's the former that gambling pushers wish to sell. Especially when Toronto is being courted for Ontario's next casino.
Indeed, gambling is a sizable cash cow for governments. The seedy underbelly is ideally avoided, hence the euphemism "gaming." But Ontario is cash-strapped, drowning in a nearly $12-billion deficit of red ink. Gambling has become a lifejacket and addiction, a means of income — of escape — too substantial for the province to wean off of it. The Ontario Lottery and Gaming Corporation (OLG) and Las Vegas powerhouses alike are attempting to woo Toronto. The prize: the potential gambling dollars Canada's biggest metropolis could generate.
In the past few months, Toronto has entertained propositions for an "urban integrated casino" at the Metro Toronto Convention Centre (MTCC) from Caesars Entertainment; a similar pitch for the MTCC by The Las Vegas Sands Corp.; and, more recently, a three-million-square-foot "integrated resort" at Exhibition Place by MGM Resorts International. The MGM pitch, for example, dangled an investment of $3 billion to $4 billion, a 1,200-room hotel, 10 restaurants, 750,000 to one million square feet of retail, 12,000 underground parking spaces, a permanent home for Cirque du Soleil and permanentemployment for upwards of 10,000 and more than 5,000 construction jobs during the proposed three-year construction period. These job prospects have been a pillar for casino advocates, which include Toronto mayor Rob Ford. Jobs, of course,mean revenue.