Dreaming of a Green Christmas – The Christmas Tree Debate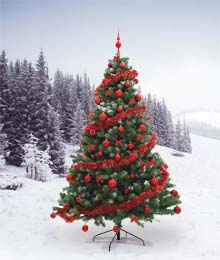 Perhaps the decision between a real or fake Christmas tree was once a contentious matter for consumers. But today, it seems, the decision is becoming more and more clear-cut. Faux fir is decking our halls.
According to Statistics Canada, in 2011 the fresh-cut Christmas tree industry reaped more than $51 million in sales. Not bad, especially considering over $28 million came from exports (Canada is a net exporter of Christmas trees, StatsCan notes). In 2010, however, the industry raked in $56.6 million — that's a 9 per cent drop. In fact, there's been a significant slide in real Christmas tree sales over the last decade: down 22 per cent since 2006 and nearly a third since 2001.
Artificial tree sales, on the other hand, continue to climb. Last year $47 million worth of fake Christmas trees were imported to Canada — more than double 2001's figure — with the vast majority of those coming from China. Like virtually every other holiday hallmark, Canadian souvenir or bargain-priced paraphernalia that fetches our hard-earned cash, we're importing Christmas from across the Pacific. The North Pole has moved its head office to Beijing.


But you already know this; it shouldn't come as a surprise. Heck, most of the toys stashed high in Mommy and Daddy's closet, hidden away from the prying eyes of snooping tots, rolled off some far-off assembly line. And we're OK with it. We're fine with these lifeless simulacra — these signifiers of commercialization, the corporate pursuit to synthesize and commodify every heartfelt memory — twinkling in our living rooms. Artificial trees are cheap, require zero maintenance and will be around longer than your wacky aunt's fruitcake. From the sensible-consumer standpoint, they're plain economical. Swing on down to the local Big Box, snatch a prepackaged replica evergreen for the low, low price of forty-nine ninety-five. Slap it together from the comforts of your Ikea-furnished living room. Disassemble when the festivities wind down and store away for next year. Rinse and repeat for years to come. Why bother with the mess and maintenance of a genuine Ontario pine? We're busy, kind of lazy and have Christmas-themed cat videos to YouTube. It's convenience versus tradition, ease versus nostalgia — decking the halls with boughs of holly is fading like an old Polaroid; homes are fashioned with more plastic than Joan Rivers' face.
C'est la vie.
But fear not, dear holiday sentimentalist. All is not lost in Corporate Christmas Land. Memories of sleigh bells, walks in winter wonderlands, chestnuts, open fires and acts of roasting said nuts remain ripe for the making.
"You don't create a memory by walking to the attic to get the Christmas tree down," says Shirley Brennan, executive director of the Christmas Tree Farmers of Ontario (CTFO). Christmas is about bringing family together, and for Brennan, there's no better way than through softwood. On tree farms across the province, families can peruse vast fields of evergreens and pick a pine so perfect Chevy Chase would weep with envy. It's an opportunity to bring the family together, to disconnect from the digiverse for an afternoon, to experience winter in all its frigid glory and to do some serious chopping. Although, pre-cuts are available for those lacking the burly, lumberjack-like arms of a magazine writer.
Jane Blenkarn, president of Hockley Valley Tree Farm, caters to these romanticisms with tractor-drawn wagon rides, fire pits and complimentary hot chocolate for tree shoppers. She echoes Brennan's sentiments: "The biggest benefit to getting your own real Christmas tree is the family memories. Even if it's just a walk in the woods the family normally wouldn't take time to do." Feel free to bring the dog, she adds. Just be sure to keep Fido on a leash.
"It's connected to building traditions, understanding the value of celebration, being together as a family — that whole process," says Vaughan resident Rolando Mastrantoni. Mastrantoni first bought a real Christmas tree after the birth of his daughter 12 years ago. Since then it's become a part of his family's regular holiday routine. He describes the connections made with both family and friends, singing carols, drinking hot chocolate and picking a new ornament each year to commemorate the new tree. "It's a beautiful thing, it really is. We didn't get that from just opening a box."
Real Christmas trees are about more than just winning some face time with your smartphone-gripped kids, too. "When you go to a landfill and you see an artificial tree there, it doesn't break down," says Brennan. Yes, artificial trees are not exactly eco-friendly. They're made in factories, most from polyvinyl chloride — a fancy word for plastic — loaded on massive container ships and ferried across the Pacific for sale here in the Great White North. And when we opt to replace these ageless, polymer pines, we know where we toss them:
the dump. Where they'll stay pretty much forever.
For Fred Somerville, president of Somerville Nurseries, when it comes to being green, real trees are the environmental ornament. "Real trees are renewable, recyclable and 100 per cent biodegradable," he says, explaining how tree farms are a source of oxygen, filter the air, protect land from erosion and offer homes for wildlife. Besides that, they create employment on the home front and support Canadian business.
While real Christmas trees may seem like the obvious eco-conscious option, the matter isn't so cut and dry. According to a life cycle assessment by Montreal-based consulting firm Ellipsos Inc., considering an average lifespan of six years of use for an artificial tree, and that consumers travel roughly five kilometres to purchase their natural tree, the real Christmas tree is the better environmental choice. But consumers who need to travel more than 16 km from their home to buy a real tree would be better suited with an artificial tree. Artificial trees, after all, are reusable. The study recommends that consumers can lessen the environmental impact of artificial trees by using them for 20-plus years. In the grand scheme of things, however, the Ellipsos study notes the environmental impact of either natural or artificial is "negligible" compared to more damaging human activities, like driving cars.
While real Christmas trees do require some upkeep, caring for them is relatively painless, as Brennan explains. She recommends leaving it outdoors until you're ready to put it in water, ensuring it stays fresh. Water it everyday and never let it dry out. If it does dry out, make several deep cuts in the bark where water can reach. If your tree is drinking — if water levels go down — you have a healthy tree.
When the holidays are long past, and you've snuck the lone slice of leftover pumpkin pie, and that last turkey sandwich is staring at you in all its mayonnaise-smothered glory, disposing of Old Prickly isn't much of a hassle. For Vaughan residents, Christmas trees are picked up the weeks of Jan. 7 and 14 by designated collection vehicles and brought to Miller Waste System's Bloomington Compost Facility, where they will be composted — an added bonus for the eco-conscious. Trees over seven feet need to be cut in half and placed curbside, in an easily accessible location (not hidden behind snow banks), no earlier than 6 p.m. the night before and no later than 7 a.m. collection day. All tinsel, ornaments and tree stands must be removed, as well.
If you currently roll with an artificial tree, chances are the debate is already wrapped up and waiting in a box downstairs. And that's fine, I'm right there with you. Even if that tree is as soulless as a Michael Bay film there are plenty of good times to be had decorating the plastic pine. Christmas oldies crooning through speakers, eggnog at hand, the family cosy and dry — it's still wholesome fun that would draw a "Bah, humbug" from Ebenezer.
But if nostalgic traditions dance like sugarplums inside your head, the Canadian Christmas Tree Growers Association has dubbed December 8 is National Christmas Tree Day "For one day, one afternoon, go out, create a memory," encourages Brennan. "Your kids and grandkids are going to talk about it years later."
Hitch up the one-horse open sleigh, grab the family and make some memories Charlie Brown would be proud of. Just hope it doesn't rain, dear.