When I pulled up to the house, I was kind of nervous," says Paul Mandarino. After the recent maelstrom of media reports focused on vulnerable kids being bullied, the 25-year-old Vaughan resident saw an opportunity to join the revolution of resolution. Knocking on a stranger's door was his first move.
After expressing interest in empowering kids, a York Region police officer informed him about Youth Assisting Youth (YAY). The not-for-profit program matches children aged 6 to 15 with volunteers aged 16 to 29 who can set an example and prevent potential consequences that can stem from social, community or familial issues. "You can reach out to those kids and you can help them through a tough time."
Before he could become a philanthropic force in his community, Mandarino had to go through an intensive application process that included an initial orientation, multiple training sessions and a one-on-one meeting with his mentee-to-be. "If he didn't like me it would crush my heart," he says, looking back on that nerve-racking introduction.
After arriving at 10-year-old Jonathan's house with his YAY case coordinator, they moved to the dinner table to discuss the details of the program with his mother. "When I started talking to her and having a conversation, things got really comfortable," he remembers. Mandarino and Jonathan immediately hit it off as well. "We found out that we have a lot of things in common and it was easy from there." The aspiring police officer meets his mentee twice a week for a total of three hours. They play catch, tennis, Lego, video games, read together and watch Argo games — and the rewards are reciprocal. "I'm still getting something out of it now," Mandarino says. "The experience has shown me that a future is based on kids and if we show them the right way, the future would be a lot less of a mess later on."
Read more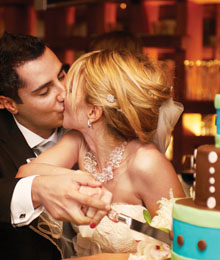 Who to bring, what to wear, when to leave, how much to give and why it all matters. The evolution of wedding guest etiquette.
THE PRESENT MOMENT
While the rule of thumb used to be that you pay for your plate, Toronto wedding planner Karina Lemke believes people have long been smashing that sacred proverb (often without even realizing it). With a nuptial landscape that's greener than ever, covering your palatable plate of rosemary organic chicken, truffle risotto and the cavalcade of buttercream desserts that follow can mean dishing out $600–$1,000 per couple, if you consider the countless rounds of Cabernet that coincide. Instead, Lemke estimates that the average couple gives closer to $250–$400, regardless of how posh the property is. While you should consider boosting your busta to cushion the blow, "most etiquette experts would back up the philosophy that if you're throwing or hosting a party, you're doing so with the expectation of nothing in return. You're doing it because you're a host." The rise of destination weddings has also ushered a new wave of gifting, which Lemke personally experienced while exchanging vows with Yuk Yuk's founder Mark Breslin in an intimate Laguna Beach ceremony in 2010. "If you're getting married away you have to assume that you're not going to get very much because their contribution is the fact that they're going — and they've probably spent anywhere from $3,000 to $6,000 a couple to join you for the week." The Emily Post Institute Inc.'s etiquette blog also dispels the pay-your-plate myth, suggesting that "the amount you spend is strictly a matter of your budget, how close you are to the bride and groom and what you think is an appropriate gift."
Read more
Copies of Stefan Sagmeister's Things I Have Learned in My Life So Far are carefully culled from a cardboard box and arranged like the Great Pyramid of Giza in the gift shop at Toronto's Design Exchange. Handled like bone China, this inanimate book with content so far from idle has the razor-edged expression of irony. Its author, a wonder of the design world, is upstairs readying his highly anticipated exhibition for tomorrow's big reveal. True to stereotypes, the New Yorker is running half-an-hour behind schedule.
It's 12 p.m. and beside the shop, two men have just begun adhering life-size letters to a freshly painted taxicab yellow wall in an artery of the original Toronto Stock Exchange building. By the time Sagmeister is ready, the first six characters of his forthcoming exhibit's title, "The Happy Show," are revealed. A cheeky caricature of a copulating couple covers the face of an elevator, offering a taste of what awaits as its doors provocatively slide open to let us in. On the second floor, the man of the hour is heard though not seen, wrapping up his third consecutive interview. Visitors are cautiously welcomed by Sagmeister's handwritten advisory: "This exhibition will not make you happier."
The show is a sensorial glimpse of the designer's decade-long exploration of that very emotion. This multimedia endeavour metamorphosed from maxims in his personal diary to a poetic book to a public portrayal of finding life's ultimate purpose that will unravel in a feature-length documentary scheduled to debut in the fall of 2013. Sagmeister makes his mission clear through the words of French mathematician and philosopher Blaise Pascal lacquered on one of the walls: "All men seek happiness. This is without exception. Whatever different means they employ, they all tend to this end. The cause of some going to war, and of others avoiding it, is the same desire in both, attended with different views."
Read more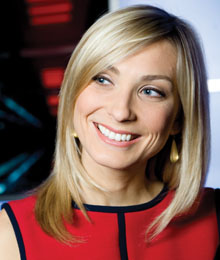 Evanka Osmak was standing at the centre of the Sky Dome in the spring of 2006 when she saw an opportunity. The budding Oakville-raised news reporter, who was working for an NBC station in Yuma, Arizona, had flown to Toronto to interview Blue Jays' catcher Bengie Molina. "I thought, 'OK this is my chance. I've got to say something, I've got to act,'" says Osmak, who aspired to return home and cover Canadian sports once her contract was up. Surrounded by veteran journalists, she stepped up to the plate and marched over to Sportsnet anchor Jamie Campbell. "I'm Evanka Osmak, I'm from Oakville but I'm working down in Arizona. Is there any chance I could send you my tape and you could critique it?" she said. Impressed by her confidence and charisma, he handed over all of his contact information and agreed to review her demo.
He never heard from her. Six months later, Campbell was hosting a holiday dinner at his family home when the phone rang. It was Sportsnet news director Mike English. He was combing the country for a female sports anchor and wanted to see if Campbell, who's regularly approached by aspiring broadcasters, had any qualified leads. Campbell immediately recalled his conversation with Osmak, but her name escaped him and he had no contact information. The only thing he could remember was that she was raised in Oakville and working in Arizona.
"I said, 'Look, here's what I'm going to do. I'm going to spend no more than 10 minutes on the Internet and I will see if I can find her.'"
Realizing his chances were slim, he monotonously typed the words "Arizona Television Stations" into Google. His search rang up 40 or 50 news stations, but when he saw the word Yuma, something struck him. He clicked the on-air talent link and "up comes this picture of Evanka from Oakville, Ontario. I remember sitting there going, 'I cannot believe how lucky I was to find her so quickly and so randomly.'"
Read more
Johann Olav Koss
Right To Play International founder and CEO
2012 Ontario Ernst & Young Entrepreneur
Of The Year recipient for Social Entrepreneurship
Johann Olav Koss created a global humanitarian organization that puts the ball in the court of marginalized, disadvantaged children in more than 20 countries by making sport and play a right, not a privilege. Right To Play's pragmatic founder was deemed "One of 100 Future Leaders of Tomorrow" by TIME magazine.
www.righttoplay.com
You've found success in many arenas, first as an Olympic speed skater and now as the CEO of a renowned humanitarian organization. What is your attitude towards achieving your goals, regardless of the realm?
Koss: I believe that in order to achieve your goals you must be willing to work incredibly hard, stick to your vision and be able to see solutions where others see problems. These are the three key areas that helped me to succeed when I was an athlete and have helped me now in my current role at Right To Play.
What is one factor most entrepreneurs overlook but you view as essential?
Koss: I believe that it is important to fail — to occasionally not experience success. These are the opportunities we have in life to learn and to grow as people. I believe that everything you do in life is for a reason and gives you the experience and the knowledge to tackle future problems. Everything that has happened in the past makes you the person you are today. I have learned more from my failures than my successes.
Read more
When the women and children at Red Door Family Shelter in Toronto awoke last Christmas morning to find nearly 200 shoeboxes stuffed with thoughtful presents from local women, they were shocked. "It's a real gift to see that the community cares about them and cares about the crises they're going through," says Bernnitta Hawkins, Red Door's executive director. What stemmed from a generous gesture has become a national initiative to spread joy over the holiday season to those who need it most. "It's not a huge thing, but I do believe in it," says Caroline Mulroney Lapham, co-founder of The Shoebox Project.
After a conversation in mid-November 2011, Mulroney Lapham was inspired to help her sister-in-law Jessica Mulroney extend her mother's philanthropic mission to the streets of Toronto. "Her mother would put together shoeboxes filled with small items that women really enjoyed — little splurges — and she would ask her friends to do the same and deliver them all to a local shelter in Montreal. Jessica said she wanted to bring it here and I thought it's such a nice idea." So they banded together with fellow sisters-in-law, Vanessa and Katy Mulroney, and sent an email out to family and friends inviting them to participate. "We were worried for a while that we wouldn't even get 100 shoeboxes, and low and behold, we got almost 400 without any kind of marketing," says Mulroney Lapham, who was delighted to be able to share the shoeboxes with other local shelters across the city.
Read more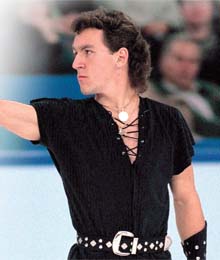 Elvis Stojko is peering out of his office window, directing his gaze towards Mexico's shimmering Lake Chapala. Surrounded by lush Sierra Madre mountains in the town of Ajijic, Jalisco, the Canadian-born ice icon has found his home in a hacienda-style estate that's more than 5,000 feet above sea level. "You pretty much see the sun every single day," he says over the phone, revelling in the dry heat he's become acclimatized to over the last 11 years. In the cottage country community of 15,000, Stojko has found the warmth and seclusion he's always craved. "Living life here is very relaxed in a way," says the three-time world figure skating champion, who savours the anonymity his celebrity rarely sanctioned on the streets of Toronto. It's been a decade since Stojko officially left the competitive realm, but as he reflects on his remarkable career and the personal and professional spin-offs it elicited, there's a sense the word retire will never be in his lexicon.
The 40-year-old, whose blades first sliced the ice when he was four, captured Canadian audiences with his unconventional charisma and outspoken opinions, yet he can't aim a dart at just one bull's-eye benchmark that stands out as his most memorable. "Oh my gosh," he says, sweeping the corners of his mind to find the right feat. "Making the world team back in 1990 was huge because I was only 17 and I came out of nowhere," he begins, segueing to the clean program he delivered at the Canadian championships that same year: "I'll always remember that skate in Sudbury." One stride at a time, he started seizing world titles and Olympic medals, breaking records in-between by landing the first-ever competition quad-double and quad-triple combinations in '91 and '97. "It was crazy, it was just so intense and I just put it all on the line," he says of the latter accolade, which he nailed at the sold-out Grand Prix finals in Hamilton. "I could have just went for the win because I was first after the short program, but I said, 'no, let's do this, let's risk it all.'"
Read more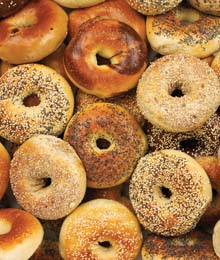 City Life Magazine gives you 10 good reasons not to cry on your birthday. We've scoured the GTA and uncovered free merchandise, food and fun for you to save hundreds of dollars on the one day you can.
1. COMPLIMENTS OF THE CHEF
For those who think there's no such thing as a free lunch, feast your eyes on Tucker's Marketplace's free birthday buffet. Located in Mississauga, Burlington and Etobicoke, this culinary hot spot will make you salivate on that special day with scratch-made soup, hand-carved roast beef and crème caramel. Just show some proof and enjoy the bread pudding! Value is $18.99 on weekdays and $22.99 on weekends.
www.tuckers.ca
2. IN CASE YOU DIDN'T KNOW
This is the ideal deal for the good friend who offers to treat their birthday buddy. The rules are simple: simply pick up the celebratory chum, take them to the nearest Casey's restaurant, order yourself a delicious entrée (min. $14.99) with a drink and let Casey's cover the cost of your ID-carrying comrade.
Maximum Value is $14.99.
www.caseysbarandgrill.com
Read more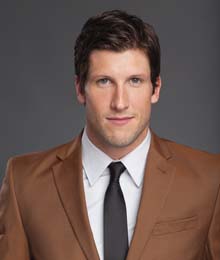 Local figures reveal their favourite New Year's Eve memories.
Brad Smith
Bachelor Canada, Citytv
''I started a tradition about five years ago where I would always go back home to my parent's place in Montreal for New Year's Eve and cook them dinner. So every year since then I've spent it subsequently with my brother, my sister and the kids, and we'd just have everybody over to celebrate. The most memorable one was 2009. I made six pounds of mussels in a spicy tomato marinara sauce, Swiss chard and collard greens with diced bacon, and goat cheese smashed sweet potatoes. We also had about seven bottles of wine. Whenever I go back to Montreal I love doing the same thing, which is just trying to get my entire family under one roof because we're just absolute crazies! This year I think Bianka and I are actually going to be in Mississauga for New Year's. We're going to my parent's from December 21st to the 25th and then we'll head to her parent's for Christmas night probably through to New Year's."
Read more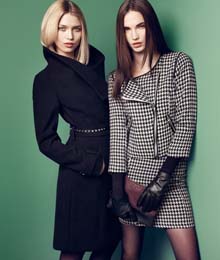 Whether you're standing under the mistletoe or the office glow, these outfits will ensure you're always in the spotlight. One of the perks to imperfect weather is the plush, patterned fashion that tends to trend this time of the year. Add a little spice to your wardrobe with these haute holiday pieces.
1. Zippers, studs and houndstooth coats make the coldest winter months worth it.
www.soakedinluxury.com
2. This beaded miniskirt gives Tinseltown new meaning. An unexpected biker jacket kicks this look into full gear.
www.zara.com
3. Shake up the classic holiday ensemble by sporting a sequined, embroidered cardigan over an oriental print chiffon blouse. Slip into seamed jeans and go get your jollies.
www.zara.com
Read more