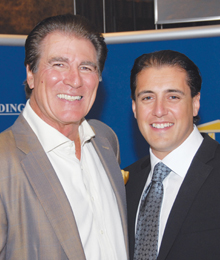 Vince Tarantino can still recall the rough texture of what felt like rock bottom. It was 2005 and the frustration of being consumed with a roaring hunger for success, yet not a morsel of opportunity in sight, was painful. While he had triumphantly climbed the ranks in the banking sector from teller to mortgage sales representative in three short years, he was still financially fazed.
The daily defeats of door-knocking spurred sleepless nights and fears of not being able to feed his two young kids on a commission-based salary. "I just ran out of steam. I borrowed the last dollar I could on the credit card, borrowed the last dollar I could on the line of credit, couldn't refinance my house anymore; I was down to the last drop," he says of a situation that many Canadians face.
Weekends were the worst for Tarantino. While he would Read more
After a friendly Montreal taxi driver wishes me good luck, I make my way towards Londono Realty Group, which doubles as the set for the national hit show The Property Shop on HGTV. A splash of knowledge and a tidal wave of fun, the show has cameras following big-league realtor Tatiana Londono as she navigates through the cutthroat world of real estate.
The novice broker, who would construct makeshift lemonade stands with her brother as a child, began with four employees and now has 100-plus agents. Londono Realty Group is an empire led by a beautiful empress, similar to the ones we used to see in old Hollywood movies. Add smart and driven to success and you can start to conceptualize Tatiana Londono.
The receptionist is young and inviting, and similar Read more
On Feb. 27th, 2010, Caliber Homes held the grand opening of its Kortridge Estates presentation centre on the southwest corner of Major Mackenzie and Weston roads. This is Caliber Homes' latest exclusive Read more
Whether you're buying or selling, having a skilled realtor in your corner can make all the difference. Just ask Lisa Colalillo, who has the knowledge and experience to help you close the deal.
It takes a keen eye to decipher what makes a good location an exceptional space to live in. And in today's growing market, it is important to have a knowledgeable realtor that will go the extra mile to get you top dollar for your home. Bringing you towards a smooth transaction is what Lisa Colalillo of Royal LePage Real Estate Professionals does best, scouting high and low for a qualified offer for your home. Take notes as this insider offers tips and tricks that will get you moving to your dream destination in no time! Read more
In today's competitive market, staying ahead of the game means going the extra mile – something Shana Ditta knows all about. As a realtor, she boasts a variety of skills to help her clients. "I can go into a home and instantly identify what will make it attractive to the most number of buyers, which is critical in this type of market," Ditta says.
Her love for real estate was born after conducting her own personal real estate transactions. "It was something I truly developed a passion for, and I wanted to share it by helping people buy and sell their homes." With a background as a financial advisor and an accredited home staging professional, she has come a long way in the industry. Knowing that selling a home can be very emotional, Ditta gives time, care, and respect to her clients. Her exclusive business style is based on the idea that every home is unique. "A standard one-size-fits-all approach just doesn't Read more