Vince Tarantino: Invincible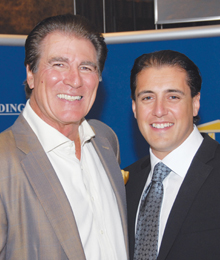 Vince Tarantino can still recall the rough texture of what felt like rock bottom. It was 2005 and the frustration of being consumed with a roaring hunger for success, yet not a morsel of opportunity in sight, was painful. While he had triumphantly climbed the ranks in the banking sector from teller to mortgage sales representative in three short years, he was still financially fazed.
The daily defeats of door-knocking spurred sleepless nights and fears of not being able to feed his two young kids on a commission-based salary. "I just ran out of steam. I borrowed the last dollar I could on the credit card, borrowed the last dollar I could on the line of credit, couldn't refinance my house anymore; I was down to the last drop," he says of a situation that many Canadians face.
Weekends were the worst for Tarantino. While he would savour staying inside the house with his wife, Anna, and kids Nicholas and Cristina, the possibility of having to sell their family home was becoming an alarming reality. "For two days, I didn't have to acknowledge another week of failure, I was numb."
That all changed one afternoon when Anna brought home the movie Invincible, based on American football legend Vince Papale, who famously beat the odds when he became a wide receiver with the Philadelphia Eagles at the age of 30. "There was something that gravitated me to that movie, it was as if I knew this guy, I knew what he was going through, it just touched me," says Tarantino, adding that he's watched the film at least 60 times with his family since.
Once the credits appeared, Tarantino made a decision to drastically alter his attitude, eliminating all excuses. What he once considered failures became lessons. Today he is a highly successful mortgage broker with Dominion Lending Centre. "Who would have thought I'd be where I am now five years ago?" says Tarantino, who travels to southern Italy with his family every summer. "I could have bought that million-dollar home, but that is not me or Anna. We have deep roots in our neighbourhood and our community." And when Tarantino noticed his son writing jersey No. 8 on the back of his shirts and one day heard him say, 'I'm like Vince Papale, I don't give up,' he realized he wasn't the only one who was positively impacted by Invincible.
If it weren't for his son's incessant pleas to meet the former footballer, Tarantino might not have gotten the courage to reach out to him. "To my surprise … he answered my email," he says. The online exchanges led to a phone conversation, and serendipitously, Tarantino made arrangements for Papale to come to Vaughan and speak at an event he was hosting
for realtors.
When he arrived, Papale spent time touring Toronto with the Tarantino family. "We were instant friends … we're brothers," says Papale, who was unbelievably humbled when he heard how his story touched Tarantino's life. The message that he translated to the crowd was a clear one: it doesn't matter who you are or what you do, everyone is capable of having that invincible moment. "Surround yourself with good people, persevere, and never give up – give it a shot, what do you have to lose?"