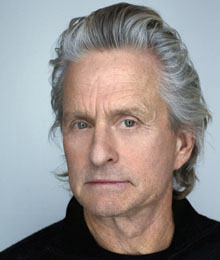 Shallow spectators may see Michael Douglas's Hollywood life as a bed of roses but only he knows the pain of its thorns. In the midst of his success, Douglas, 65, is currently enduring the later stages of an eight-week course of radiation treatment to cure his aggressive stage IV throat cancer. While he fights the pain of the chemotherapy, his career continues with his box-office hit Wall Street: Money Never Sleeps.
As Douglas courageously climbed the ladder of success in Hollywood, every so often he might have looked over his shoulder to see that underneath him were people – family members, perhaps – who looked up at him with their hands outstretched, needing him in their lives. Unfortunately for them, ambition has no peripheral vision. As his career soared, his personal life has suffered. Read more
Grab that buttery popcorn and pick a prime spot as you prepare to indulge in one of these hot new flicks, either at the theatre or in the comfort of your living room.
1. Wall Street: Money Never Sleeps After being locked up for years, Gordon Gekko (Michael Douglas) finds he no longer holds the top spot in the corrupted world he once ruled. Trying to salvage his relationship with his daughter, Gekko creates an alliance with her fiancé, Jacob (Shia LaBeouf), who at first sees Gekko as a father figure and friend but soon learns that Gekko is far from a changed man. www.foxmovies.com
2. The American If you can't get enough of James Bond, this film is a must-see. Jack (George Clooney), a seasoned assassin and master craftsman of weapons, decides this mission to the Read more