'I'm Doing Fine': Michael Douglas on the fight of his life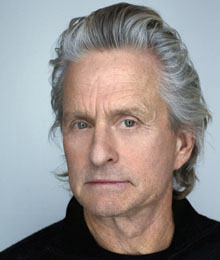 Shallow spectators may see Michael Douglas's Hollywood life as a bed of roses but only he knows the pain of its thorns. In the midst of his success, Douglas, 65, is currently enduring the later stages of an eight-week course of radiation treatment to cure his aggressive stage IV throat cancer. While he fights the pain of the chemotherapy, his career continues with his box-office hit Wall Street: Money Never Sleeps.
As Douglas courageously climbed the ladder of success in Hollywood, every so often he might have looked over his shoulder to see that underneath him were people – family members, perhaps – who looked up at him with their hands outstretched, needing him in their lives. Unfortunately for them, ambition has no peripheral vision. As his career soared, his personal life has suffered.
This past month, Douglas's first-born son Cameron, a 31-year-old DJ and aspiring actor, was sentenced to serve five years of a possible 10-year prison sentence for conspiring to sell crystal methamphetamines and cocaine and for possession of heroin. Prior to the verdict, Douglas sent a five-page handwritten letter to the presiding judge in the case, in which he wrote: 'He's sober! … I get to witness the wonderful young man he can be; he maintains his spirit, and blames no one but himself.' He included that his absence as a father and his failed marriage to ex-wife Diandra Luker may have affected Cameron's upbringing. His son's prison term, the release of his film and his first week of radiation treatment, along with the loving relationship he shares with his wife Catherine Zeta-Jones and their children Dylan, 10, and Carys, 7, were all in the balance when he appeared on The Late Show, sitting next to his long-time pal David Letterman. Douglas's positive attitude impressed the often-unenthused Letterman to say, "You're taking it head-on, for God's sakes!" Douglas confidently replied, "You have to … I'm doing everything I can."
According to Douglas, his doctors believe he has an 80 per cent or better chance of survival. "I'm going to beat this" has become his working mantra. If Douglas's past life is an indicator of the current and future adversity he faces, good will come.
The truth is, cancer can deteriorate, diminish and end human life. It frightens even the toughest individuals. The heavy-jawed, eagle-eyed actor has displayed courage when answering questions about his disease. Over the course of his life, he has put himself in difficult situations and come out a winner. He has the strength to be brave in the face of the scariest unknown outcome in his life. The world wishes him well.
Interview By Amanda Sweeney
Q: At this point in your career, how important is it to find different kinds of characters to play?
A: Actually, it's crucial. It's the only reason to get out of the house, quite honestly – unless you find something that is exciting and motivating. I'm in a great place in my life personally right now in terms of Catherine [Zeta-Jones] and our two little, young children that we really enjoy. So I don't get out that often to go do stuff. You have to trust your instincts and I like flying without a net. I enjoy that risk-taking aspect. It's exciting for me.
Q: There are very rare relationships between actors like the one you've had with Danny Devito. Tell me about this lifelong friendship. You guys have worked together often. Is your friendship and professional relationship hard to balance?
A: It's seamless. It's the beauty about working with friends. I mean, I know now why people like to work together. It's because you don't have to go through that formality, that dance of introductions, the this-and-that. There's a familiarity. We're old buddies and so in the limited time that we have together; there's a comfort factor. Plus, he's funny. He's funny off the set or on the set. He can't help himself. So I completely understand why people like to work with the same actors and/or the same directors again and again, especially as the schedules and the budgets get shorter and tighter every year. You don't have a lot of time to get to know each other.

Q: You're very good at playing the powerful man who's taking a fall, as you did in Falling Down and other films, and once again in Wall Street: Money Never Sleeps. Is it nice to come back to this kind of material?
A: I mean rascals are always fun to play; people who are not worrying about ethics. It's an instinctive and inherent quality and it's just delicious. It's like a good meal and you like provoking people. I like the danger of trying to win over an audience. Some people earlier mentioned Fatal Attraction, in a different way, but to play a character that is not particularly nice and then to try to win an audience's grace is something that I enjoy.
Q: How do you balance life with Catherine and two young kids with being a movie star of your calibre? Do they understand that you're as famous as you are?
A: I don't think that you balance. I think for a long time in my life, you lead with your career. Making movies is a full- time [job]. If you make it your occupation and you choose to go away from your home, you have to make choices – my balance has completely changed since I've gotten married and am now raising a family. I would say my family is first; issues that I'm involved with like the United Nations, Messenger Peace, disarmament issues are second; and then you're lucky to find a good film to do, which then motivates you to go off to work. I'm not that motivated nor do I see that many good projects that I want to take me away from my family.
Q: Do your children understand what you do?
A: Well, they're starting to now that they're getting older, but for years – it's true and it's a cliché, but Catherine and Chicago and all of that – all they knew was that daddy made pancakes because I didn't have any movies I could show them. Then finally there was an old Disney picture, I remember, Napoleon and Samantha. and then they've seen Romancing the Stone. So, now they know what I do.
Q: As an icon of American cinema, what's your impression of Canadian films?
A: I'm going to tell you a big secret: I don't see a lot of movies, be that Canadian or American. I love the process. I love making movies. I love working on them. I see the ones that I do, but I'm a sports junkie and a news junkie, in large part because I don't know how they're going to end. Unfortunately, I kind of guess the ending halfway through so many movies. So, be it Canadian or any of the other movies at [Toronto International Film Festival] this year, I'm not aware of, having just arrived yesterday. Having said that, talking about the festival in general, I mean it's spectacular. It's so wonderful to see what's happening, what's going on with Canada in general this year. Canada has sort of gotten by the economic woes that have gone on in the States. The banks have conducted themselves in a mature fashion. The banks didn't become like hedge funds, which happened in the States. The generation of talent is extraordinary for a country with a population the size of California.
Interview By Robert Hayes
Q: Michael, your situation of late has taken precedence over everything. What's been your reaction since going public with this? Do you look at this as the fight of your life?
A: Well, it didn't cost Fox a lot of money. There's not a lot of marketing dollars involved here. An unfortunate timing situation – never a great timing situation. I'm doing fine. I'm very proud of the picture. My doctors are optimistic. I'm optimistic, and obviously a combination of radiation every day and chemo limits a full day but everybody did a fantastic job and life goes on. So, no, this is just another chapter. I've had a pretty good run of it and this was a pretty bad year. It's going to be topped off with a really good movie.
Q: What do you think this movie means for New York?
A: I thought that New York looked beautiful and after just looking at it and acknowledging Rodrigo Prieto, who was Oliver [Stone]'s call, I think the thing when I saw the picture for the first time was, like, 'Wow. This is sexy. This is a beautiful, beautiful, seductive, gorgeous, gorgeous-looking city.' So if you're going to put this witch's brew in, then this is an awfully nice cauldron to have it in.
Q: What are some of the fun and guilty pleasures that are helping you get through this tough time?
A: Guilty pleasures? I guess one of the guilty pleasures is that I didn't have to do the junket today. I'm very grateful to Josh [Brolin] and Susan [Sarandon] and Oliver [Stone] because it's hard work. I'm just taking it a day at a time – trying to do my homework and keep up with the program. I don't have anything to do, thank goodness. You couldn't pick a better time. Tennis has never been better. College football just started. I've got a Monday night game coming up with the Jets. Sports looks really good and to top it off, we've got a picture that's rocking. What's not to like?

Q: Can you talk about the feedback from people who have seen this and how much weight did you give your roles, from talking to people who actually do this for a living like Michael Millken?
A: I met Michael Millken for the first time with Oliver Stone at the Drexel Burnham offices in Los Angeles. We were doing homework. They were giving us a tour and Michael was a little nervous and then Oliver said, 'Can you show me the shredding machines?' Michael Milken excused himself. He said, 'Excuse me.'
Q: How much weight do you put on people who have really lived this when it comes to your research and portrayal?
A: Everybody's always an expert if you're doing a picture in his/her area. I think that's the one area that in terms of the verisimilitude, particularly on Money Never Sleeps, Oliver was making us all crazy as we began shooting in terms of getting into the detail and everything else. I think he gets a particular enjoyment out of satisfying that 70 people who possibly understand the entire script and all of that. So that's all accurate. But it is a phenomenon. [For] this picture, the first one did well, but the kind of life that this has taken on is kind of a unique phenomenon between the movie and the world and where it's at today.
Q: Gordon Gekko was motivated by money in the first movie. In this film we think that at least until the third act. What motivates you now [in life]?
A: A good part, a good movie. Just quality wherever you can find it and a little financial security is good.