Grab that buttery popcorn and pick a prime spot as you prepare to indulge in one of these hot new flicks, either at the theatre or in the comfort of your living room.
1. Wall Street: Money Never Sleeps After being locked up for years, Gordon Gekko (Michael Douglas) finds he no longer holds the top spot in the corrupted world he once ruled. Trying to salvage his relationship with his daughter, Gekko creates an alliance with her fiancé, Jacob (Shia LaBeouf), who at first sees Gekko as a father figure and friend but soon learns that Gekko is far from a changed man. www.foxmovies.com
2. The American If you can't get enough of James Bond, this film is a must-see. Jack (George Clooney), a seasoned assassin and master craftsman of weapons, decides this mission to the Read more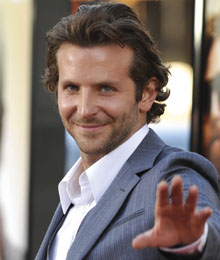 Thanks to recent box office hits like Yes Man, He's Just Not That Into You and The Hangover, Pennsylvania native Bradley Cooper has been upping his way towards the Hollywood A-list.  His magnetic swagger, chiselled good looks and of course, his acting talent, is allowing the American to abandon his status as a supporting actor to bask in the limelight of a leading man.
Bradley Cooper was born on Jan. 5, 1975, in Philadelphia, Pennsylvania, to an Italian-American mother and an Irish-American father. In 1997, having just completed an honours degree in English at Georgetown University, 22-year-old Cooper packed his bags and headed for the city so nice they named it twice.
Upon his arrival in the Big Apple, Cooper, who was stung with the acting bug, enrolled himself at the Actors Studio Drama Read more