Lisa Ray is in her own world right now. The acclaimed Canadian actress appears faraway from the photographer, videographer and stylists that have formed a tight circle around her. Even the intense stare of studio lights can't assuage her green gaze as she ironically sways to the orchestral sound of Arcade Fire's Empty Room. Wearing Christian Louboutin shoes on her feet, a white silk-chiffon Réva Mivasagar dress on her body and the lyrics When I'm by myself, I can be myself on her face, Ray's angelic feathers are as unruffled as it gets.
With a self-assurance and practiced poise that's poetically performed, you would never guess that the spirited 39-year-old considers herself an introvert. "I need time alone. I'm quite shy at my core and at my being and I don't really invite attention," says Ray. That's not the case, however, when the red light Read more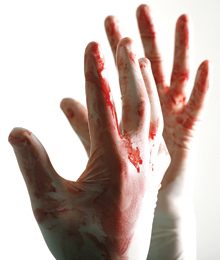 In the poorest corners of India, the skeletal bodies of street beggars reach forward with outstretched hands. Sunken faces and mouths open, searching for relief from the sweltering hell of their unfortunate existence. Speech is heard but only one word is understood – help.
Somewhere across the world, help is the shared sentiment of a total stranger who is suffering from acute kidney failure, fed up with the nauseating and weakening dialysis treatments, and scared of the average eight- to 10-year wait period for a healthy kidney transplant (most dialysis patients die in half that time). When the pain of any unhealthy organ becomes anywhere from noticeable to unbearable, individuals may feel inclined to search for ulterior motives of survival. Restoration of their depreciating health is the ultimate end result. The question is, at what cost? Read more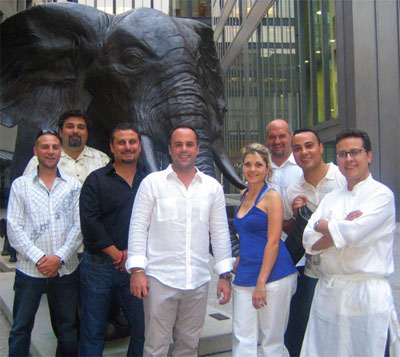 By producing lively, upbeat events, the Remember Me Foundation is a group of business entrepreneurs raising funds for less-recognized charities such as Giant Steps Toronto, which fosters educational programs for children living with autism, and Families For Children, which helps impoverished women and children in India and Bangladesh. The Partylicious Event at Jump Café & Bar on Aug. 15, 2009, provided a delicious spin on fundraising with food delights by Toronto's top chefs Ted Reader and Filippo Mancuso. The event successfully raised $35,000.
www.familiesforchildren.ca
www.giantstepstoronto.ca
Photo: Dave Parisi, Rob Chiodo, Jason Monaco, Sam Mancuso, Laura Sorrentino, Filippo Mancuso, George Dipede, Tony Laguardia.