Organ Trafficking: Desperation and Temptation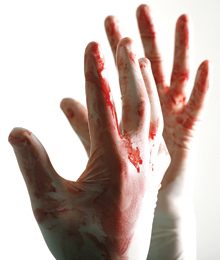 In the poorest corners of India, the skeletal bodies of street beggars reach forward with outstretched hands. Sunken faces and mouths open, searching for relief from the sweltering hell of their unfortunate existence. Speech is heard but only one word is understood – help.
Somewhere across the world, help is the shared sentiment of a total stranger who is suffering from acute kidney failure, fed up with the nauseating and weakening dialysis treatments, and scared of the average eight- to 10-year wait period for a healthy kidney transplant (most dialysis patients die in half that time). When the pain of any unhealthy organ becomes anywhere from noticeable to unbearable, individuals may feel inclined to search for ulterior motives of survival. Restoration of their depreciating health is the ultimate end result. The question is, at what cost?
In the middle of these two distant, deprived worlds lie the illegal organ traffickers, the brokers, and the doctors. These law breakers continue to function knowing that the law of the land in almost every developed country makes it illegal to sell an organ for money or gifts of any kind. The most abused loophole is the claim that the person donating their organ is doing so for altruistic reasons, nothing more. Small-time brokers in this seedy business are caught every year and charged for fraud.
A million people are diagnosed with kidney failure each year. The gap between demand and supply continues to widen, which makes illegal trafficking another lucrative cog in the black market's almost unstoppable evil machine.
The World Health Organization, with the help of "Organ Watch" at Berkley University California, estimated that one-fifth of the 70,000 "legal" kidney transplants that occurred last year came from the black market. The majority of these backdoor deals occur in China and India, poverty stricken countries like Moldova, and places throughout Central and South America. People are lured into selling their kidneys for as little as $2,500 US. The weak, especially those with families, are the ones that organ traffickers regard as three-legged dears (an easy kill). Organ traffickers will cheat, maim and murder humans for their fresh organs. In 2009, The New York Times reported that in some cases, Indians were forced to give up an organ at gun point without compensation.
Whether it is a piece of liver, an eye, a lung or a kidney, the poor who try to better the quality of their life and their children's lives by selling a piece of their body fail to realize the need for intensive post-surgery care that is mandatory in any normal hospital situation after undergoing such invasive operations. In this world, however, cars and hotels often serve as the surgical rooms and bumpy bus rides back to their homeland, without proper medication, double as their post-surgical rest period.
In the documentary "Organs Across Borders," a 32-year-old Moldovan man named Mikhail explains how and why he sold his kidney. At age 26 he left Moldova and headed for Turkey – the European mecca of black market organ trafficking was waiting for another poor soul and its fresh kidney. A few days after his kidney was removed, traffickers put him on a bus headed for Moldova. Without proper documents, a $500 bribe to border police was the only way he could get through. Were they in on it? Probably. Without the essential
pre- and post-medical treatment, along with rest and the avoidance of hard physical work, people like Mikhail are unable to fully recover from surgery. He never fully recovered and is unable to perform basic tasks. With physical labour being the main source of income in poor countries, whatever life is left to lead often becomes more difficult than the one pre-surgery.
The average monthly wage in Moldova is $50. It's no wonder, then, that it leads all European countries in unsanctioned surgeries for cash – and the numbers never accurately portray the true amount of people who go under the illegal knife, due to the fact that people are ashamed to admit to their doctors that they have undergone a backdoor surgery. For $2,500, Mikhail learned that shortcuts in life often make for regrettable decisions. He is now at the mercy of a welfare system that pays him $20 a month.
Globally, the demand for healthy organs of any kind exceeds supply. This is where things get dirty, and the players on the black market profit through whatever means necessary. The ethical dilemma is to wait for a kidney or cross the border and enter the world of kidney trafficking. Even after dishing out tens of thousands of dollars – as much as $150,000 for a healthy kidney – there are no guarantees. Each year, thousands of people die on the operating table or from a kidney that is diseased (hepatitis B being the major contributing factor to fatalities occurring after a kidney is successfully transplanted.) Parents in search of the answers to their financial woes and inspired to give their children an opportunity to thrive, even in the face of certain pain, are dying every day around the world and leaving their children with nothing.
Time is against the sick, money changes lives forever, and solutions can prove to be deadly. The desperation of someone faced with a fatal illness will undoubtedly force them to acknowledge the temptation that the world of illegal global organ trafficking is offering.
All it really takes is a little x in the organ donor box on the back of your driver's license to make a change. Take the time to visit www.giftoflife.on.ca and see what a difference you could make in someone's life here in North America and abroad. That little x can help put an end to illegal organ trafficking. It doesn't cost you anything and it might save someone else a lot of money, not to mention the life of a mother or father and even a child in a third world country. Also, for a gripping account that digs deep into the black market's organ and human trafficking ring, be sure to check out Ernie Hunt's new novel, "Trading in Humans – An abhorrent crime against all civilization."