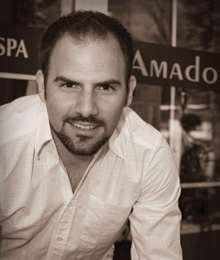 The right haircut can bring about a burst of exhilarating change, provide confidence or even symbolize a fresh new start.
"Hair should reflect the individual, and reveal inner beauty," says Robert Amado, creative director of Amado Salon and Spa. "It's important to take into consideration a client's facial structure, personality and lifestyle in order to create a look that best suits them," he says of his work philosophy.
With 11 years of styling experience under his belt, the Vancouver-born stylist is master of his craft. Revered in his field, Amado pursued illustrious careers at various salons before opening his own this past February. Read more
A great hairstyle can transform your look from drab to fab! Let the professionals at Salon Massimo take your look to new heights – with their extensive knowledge of hair therapy and aesthetics. Walk in for a consultation to discover owner Massimo Puntillo's thrilling cutting-edge techniques. "I have a great staff. Without them it would be impossible to achieve the level of success I have earned in my 21 years as a hairstylist," says Puntillo. Constantly updating themselves, the stylists at Salon Massimo go to great lengths to ensure each haircut, colour and style is a work of art by travelling the globe to partake in seminars and workshops taught by world-renowned hair professionals.
"Great hair starts with a great cut and if you don't know how to use your tools, no amount of styling will fix a bad haircut," says Puntillo, who suggests using the Schwarzkopf line for the airbrushed touch your tresses crave.  Salon Massimo also maximizes your beauty with its on-site aesthetician, who will pamper you with dazzling manicures, pedicures and soothing facials. www.salonmassimo.com