It was nearly three years ago when hair stylist-entrepreneur Robert Amado first opened Amado Salon, and he's never looked back since. Through a customer-first philosophy and the skilled hands of innovative stylists, Amado Salon has blossomed into one of Kleinburg's mane attractions.
"If it is one thing that we have learned in the last three years it is that if you take care of the people, the business takes care of itself," says Robert Amado, owner and creative director of Amado Salon. "There are so many factors in running a business, but at the end of the day, it's the people that matter most."
Like the agile scissors of a polished stylist, Amado's empathy towards his clients' needs has shaped this cutting-edge salon into a sanctuary of style and relaxation. Read more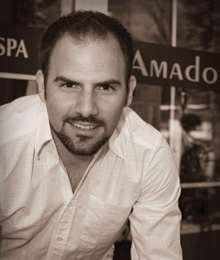 The right haircut can bring about a burst of exhilarating change, provide confidence or even symbolize a fresh new start.
"Hair should reflect the individual, and reveal inner beauty," says Robert Amado, creative director of Amado Salon and Spa. "It's important to take into consideration a client's facial structure, personality and lifestyle in order to create a look that best suits them," he says of his work philosophy.
With 11 years of styling experience under his belt, the Vancouver-born stylist is master of his craft. Revered in his field, Amado pursued illustrious careers at various salons before opening his own this past February. Read more