Colour Confidante Robert Amado, of Amado Salon and Spa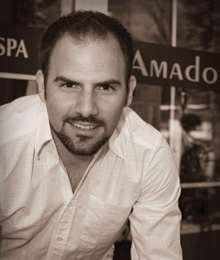 The right haircut can bring about a burst of exhilarating change, provide confidence or even symbolize a fresh new start.
"Hair should reflect the individual, and reveal inner beauty," says Robert Amado, creative director of Amado Salon and Spa. "It's important to take into consideration a client's facial structure, personality and lifestyle in order to create a look that best suits them," he says of his work philosophy.
With 11 years of styling experience under his belt, the Vancouver-born stylist is master of his craft. Revered in his field, Amado pursued illustrious careers at various salons before opening his own this past February.
A beauty oasis, the salon is armed with all the fixings, offering colouring, cut-and-styling, highlighting, aesthetic work from makeup to total body care, and bridal packages – to name a few. Set in the quaint town of Kleinburg, clients are greeted with a warm and inviting atmosphere, skipping the rushed pace of the city. "The décor is modern and up-to-date, giving way to a relaxing experience," says Amado.
With the help of Eufora, a revolutionary line of organic hair-care products, Amado and his team of experts create personalized looks while catering to hair's unique needs. "We have many alternatives today, allowing me to provide a healthier environment for my guests and staff," he says.
"I think hair should reflect the individual, and reveal inner beauty." – Robert Amado
A colour specialist with a dynamic background, Amado holds a cache of colourist diplomas, helmed from various colour companies. Often travelling as a colour educator across North America, Amado has risen to the top of his field. Through his hard work and experience, he has earned recognition through countless awards, and has appeared on industry-related hair shows as a featured guest artist.
Fusing his honesty with impeccable vision, Amado sculpts, textures and colours hair to reach its maximum potential. "For me, hairdressing is an art; it's that stroke of passion that leads to the perfect creation," he explains. "When I dream, I dream in colour."
[gallery-map]
10462 Islington Ave., Kleinburg, ON
T: 905.893.3686
www.amado.ca