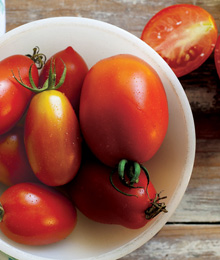 The taste of a juicy tomato freshly plucked from the garden is one of my favourite summer-gardening moments. Undoubtedly the world's most popular fruit grown in the vegetable garden, tomatoes come in all shapes, colours, sizes and flavours. From cherry tomatoes, slicers and plum tomatoes, to colours of red, yellow and purple – believe it or not, all require the same growing conditions. Here are some quick tips to get your perfect tomato garden growing this summer.
Make Them Feel Hot, Hot, Hot
Tomatoes like it hot and sunny, requiring at least six (but ideally eight) hours of direct sunlight – preferably in the afternoon – for optimum growth. The hottest summers produce the best tomatoes.
Feed Your Soil
Whether planted in the ground or in a pot, tomatoes require rich and
Read more