It was nearly three years ago when hair stylist-entrepreneur Robert Amado first opened Amado Salon, and he's never looked back since. Through a customer-first philosophy and the skilled hands of innovative stylists, Amado Salon has blossomed into one of Kleinburg's mane attractions.
"If it is one thing that we have learned in the last three years it is that if you take care of the people, the business takes care of itself," says Robert Amado, owner and creative director of Amado Salon. "There are so many factors in running a business, but at the end of the day, it's the people that matter most."
Like the agile scissors of a polished stylist, Amado's empathy towards his clients' needs has shaped this cutting-edge salon into a sanctuary of style and relaxation. Read more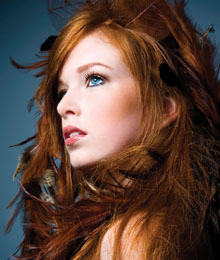 Known for blowing away its clientele with flawless makeovers, David Grossi and the style gurus at L.A Hair Design are your go-to-team for mane advice. Learn how to give your hair the celebrity-style pampering it deserves with tips from the experts at L.A Hair Design.
Q1: What steps do you and your staff take for a colour and cut makeover on a client?
Grossi: The first step is listening to the client's ideas for the look they would like to achieve. Secondly, we make suggestions to improve or add to the idea and thirdly, we would reaffirm to the client what we (the stylists) understand the final goal to be so we are on the same page.

Q2: How do you correct damaged hair after a home colouring disaster? Read more