It's Wednesday afternoon and Sonnie Trotter has made his way to an Internet café in El Paso, Texas. Not that he was dodging the interview, but it took some effort to get the Canadian alpinist on the phone. Trotter is a professional adventure rock climber, and when your job is hunting down the world's most challenging lines, it means immersing yourself in some fairly remote locations.
"It's like a killer instinct. It's a really raw, beautiful thing that comes out of you," says Trotter, one of the most prolific climbers of the past decade, as he describes his body's response to an especially challenging route. "I feel like I'm lighter, I'm strong, I'm sharper – all those kinds of things occur. It's a very fleeting moment, but it's a very addicting feeling. It's almost drug-like."
Read more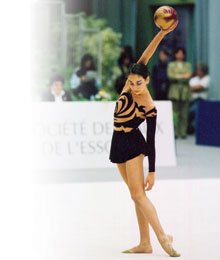 Rhythmic gymnastics is a representation of beauty, poise and elegance. Taking form in various disciplines, this graceful art combines dance and sport, developing coordination, flexibility, strength and musicality to fortify the body and invigorate the soul.
Founded nearly 30 years ago, Ritmika Rhythmic Gymnastics Club is one of the most established, recognized clubs in Canada. "Our coaches are passionate about the programs we offer and truly care about the development of our students," says Annely Riga, the club's owner and a former gymnast herself.
With programs ranging from beginner recreational to highly competitive, tiny tots to adults, Ritmika is extremely comprehensive, ready to cater to any student who walks Read more