Ritmika rhythmic gymnastics: the Art of the Beat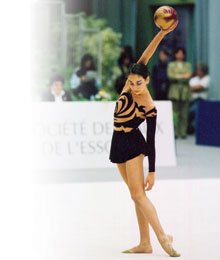 Rhythmic gymnastics is a representation of beauty, poise and elegance. Taking form in various disciplines, this graceful art combines dance and sport, developing coordination, flexibility, strength and musicality to fortify the body and invigorate the soul.
Founded nearly 30 years ago, Ritmika Rhythmic Gymnastics Club is one of the most established, recognized clubs in Canada. "Our coaches are passionate about the programs we offer and truly care about the development of our students," says Annely Riga, the club's owner and a former gymnast herself.
With programs ranging from beginner recreational to highly competitive, tiny tots to adults, Ritmika is extremely comprehensive, ready to cater to any student who walks into the gym. Led by a team of remarkably experienced coaches, Ritmika's competitors have travelled the world and competed in all major international competitions, including the World Championships and Olympic Games.
The club's spacious 3,500 sq. ft. gymnasium features 27-foot ceilings, and a viewing area for parents, which allows them to watch their children's progress.
September will introduce exciting new programs such as parents and tots classes, prenatal classes and an extensive fitness program, headed by a highly motivated and internationally trained staff member arriving from Europe. Open houses will be held on Sat. Aug. 29th and Sept. 12th, 2009, from 10 a.m. until 2 p.m. Register now! www.ritmika.ca
905.660.9535
361 Four Valley Drive, Unit 3
Vaughan, Ont.