Vaughan Municipal Election: Will Mayor Jackson Beat it?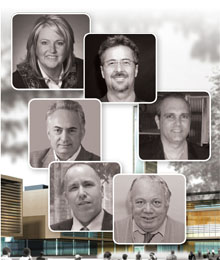 Question marks float like buoys in Vaughan's political waters, where six mayoral candidates tread towards a distant City Hall. Whether or not Mayor Linda Jackson's campaign bid will be able to transcend a trail of controversy is becoming the crux of conversation. The early stages of the municipal election leave many residents wading in a murky reservoir, probing for a channel of transparency.
"It's been entertaining, engaging and bewildering. It will be interesting to see if there is a higher turnout in this municipal election," says Nelson Wiseman, an associate political science professor at the University of Toronto. "What's gone on is quite unusual, quite out of the ordinary, quite wild in terms of the city and the legal cases and the intensity," he adds, mentioning that he's received more calls about Vaughan's election than any other municipality, including Toronto.
Mayor Linda Jackson – daughter of the late Lorna Jackson – has borne the brunt of most discussions so far. Last year, she was pinned with 68 charges involving election finance irregularities from her 2006 campaign in which she beat incumbent mayor Michael Di Biase by a narrow 90 votes. Some of the charges filed under the Municipal Elections Act allege that Jackson went above her $120,419 campaign expense limit and failed to keep all expense receipts.
Jackson's three-week trial won't be held until January 2011 – which means voters will be heading to the polls with suppositions rather than solidified answers. "This is really an unfortunate and undemocratic situation," says Robert MacDermid, an associate professor of political science at York University. "It speaks to the lack of seriousness through which these things are handled that it has taken so long for this to come
to trial."
While Jackson did not respond to e-mails, she discussed her time in office during a campaign kick-off speech on June 3rd. "To say I had a baptism by fire in my first term as Mayor of Vaughan would be putting it lightly, indeed. I have learned a lot since I was elected to council eight years ago and this experience will better position me for our future together," says the mayor. She also highlights her efforts made to select a spot for the development of a new hospital and the strides that have been taken towards improving city infrastructure, safety and employment. Regarding finances, a posting on her campaign website reads: "The goal is to make the city of Vaughan the standard bearer in Canada for accountability and transparency when it comes to expenses."
One of the issues that MacDermid has observed through his extensive studies in municipal campaign finance is the extent to which Vaughan's council and candidates have previously depended on funding from developers and corporations to run their campaigns. MacDermid believes that it would be great to see candidates either turn down such donations, as done in Toronto, or disclose the contributing parties to citizens two weeks prior to election day. "This could help build confidence amongst voters that these candidates are not completely dependent upon sources of funding that have an interest in the decisions that council makes," he says.
"What's gone on is quite unusual, quite out of the ordinary, quite wild in terms of the city and the legal cases and the intensity." – Nelson Wiseman, political science professor at the University of Toronto
While Jackson's diligence to move past the allegations and spend a second term at City Hall are visible, Wiseman gives us ground to further expand our political thought margins. "Although the scandals, the noise and the mud of the past have hurt [Jackson], one of the advantages of an incumbent is a divided opposition," he says. With a distinct group of candidates in the running, and speculation as to who might still enter, there's much to be said about shifting political dynamics.
Former Liberal MPP Mario Racco is one of the five fighting to replace Jackson. "My vision is for a city where council works together, on behalf of their constituents, to make good planning decisions and spend tax dollars wisely," says Racco. Along with including a developer registry in his policy plan, Racco's key priorities are transparency, accountability and openness. The latter three appear to be a common denominator amongst most contenders, including local business manager David Natale. "A city of maximum transparency and accountability to the people of Vaughan," is Natale's vision. "Vaughan is in desperate need of an image makeover and I honestly believe I can be the catalyst for change, renewal and true leadership," he adds.
Also riding on a wave of change is business owner Tony Lorini, who hopes to bring a fresh form of leadership to Vaughan's political roundtable. "I want to symbolize a new generation of competent honest civic politics in Vaughan, where the citizens come first," he says, adding his intentions to freeze taxes, mayor and councillor salaries for four years if elected. Senior citizen and former mayoral candidate Savino Quatela says he will forfeit his own salary if elected mayor. "I also do not accept any donations as I believe that they influence the actions of the victor following an election," he says. "A thriving and successful city with its own hospital and free of transportation issues," is Quatela's objective.
Former city worker Paul D'Onofrio plans to put 10 per cent of his own salary towards Vaughan's hospital if elected. "I am very confident that the residents of Vaughan will see a significant improvement within my first year as mayor. So confident that I will provide a guarantee that if the residents are not happy with my performance I will step down," he says.
"This is really an unfortunate and undemocratic situation." – Robert MacDermid, political science professor
at York University
An image of an incessantly spinning skip rope looms in the background as the GTA muses about who might be waiting in the wings for the right moment to jump in. Recently retired OPP commissioner Julian Fantino has denied intent to run, while many are still wondering if former mayor Michael Di Biase will give it another go.
Wiseman believes that Vaughan's Liberal MP, Maurizio Bevilacqua would prove to be a heavyweight contender if he decides to step down from Parliament Hill to run for mayor. "For people, this could be seen as a house cleaning," says Wiseman. Bevilacqua responded to the speculation in a thought-provoking e-mail regarding his political aspirations. "As a citizen of Vaughan I am convinced that the best is yet to come. We will win more in the future than we have lost in the past. I am committed to being part of this journey that will take this city to places it's never been before. As for my future, I will continue to serve the people of Vaughan for whom I have a great deal of affection and respect, providing them with the transformational leadership they justly deserve," he writes.
As one of Canada's fastest growing municipalities, Vaughan residents have much to consider before casting their ballots on Oct. 25, 2010.
www.vaughanvotes.ca