Remo Ferri — The Remo Ferri Group of Automobiles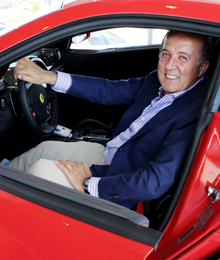 Remo Ferri has every boy's dream job. Personifying unyielding passion, Ferri's fierce drive to end up in the automobile business gave him enough momentum to become owner of one of North America's leading Ferrari and Maserati dealerships. "We don't sell cars, we sell a dream; we sell excitement; we sell a moment. I love that I get to do that every single day," says Ferri, founder of The Remo Ferri Group of Automobiles.
Though he admits that the road to success has its bumps, Ferri chooses to embrace all challenges, as they are essential facets for progress. Catering to a wide range of clientele in Toronto, Vaughan and even Alberta, Ferri's group furthered its time-honoured reputation by adding BMW, Mini, and most recently, Ford and Lincoln to its distinguished roster of dealerships. "You need to be able to service your customers, not just with one brand, but multiple brands. We touch on every angle, that's the beauty of this," says Ferri, who spent his adolescence apprenticing at Ferrari in Italy – envisioning the day he would be able to own his own. Diversification was the key motive behind Ferri's latest acquisition – Pine Tree Ford and Lincoln. "The most valuable thing that you can compile in a business is your database. By enhancing our marquee, we are generating a larger selection of automobiles that we can offer our customers," says Ferri, adding that it also gives him great pleasure to now distribute North American products.
While Ferri's coveted cars certainly keep him busy, he always finds time to give back to the community. Over the past 11 years, The Remo Ferri Group of Automobiles has fulfilled generous commitments to a variety of charities, especially SickKids Foundation. "I had a dream, and my dream was to work for Ferrari; when I look at kids, they love Ferrari too, and these kids have dreams of their own, so what better way to help?" he explains. With three progeny of his own, Ferri has a natural affinity for younger generations. His daughter manages The Remo Ferri Group of Automobiles' HR department and his youngest is a 21-month-old boy. "Every time he sees the Ferrari emblem he yells, 'Pappi, pappi!' It's unbelievable."
When Ferri isn't delivering fast cars, spending time with family or being a philanthropist, he's fulfilling his childhood fantasies at the racetrack. "I actually believe that you have to follow your passions – if you do, you will be successful. I truly believe that."
www.remoferrigroup.com
www.pinetreefordlincoln.com
www.ferrariofontario.com